Commentary What if SeaWorld can't improve its offerings?
Monday, July 9, 2001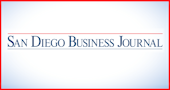 SeaWorld San Diego is pursuing approval of its plans to refresh the marine theme park over the short term, and through the life of its lease.
While this vitally important tourist attraction has made a good case for the need to refresh, there is controversy over the specific projects it has proposed.
In my view, SeaWorld's future projects and master plan update are very good things and should be supported precisely as proposed. Even more importantly, we should ask ourselves this question: What would happen if SeaWorld could not proceed?
The answer is grim. But first, let's understand what we are talking about here.
San Diego Thrives On Tourism
Tourism is the third-largest industry in San Diego, after manufacturing and the military. It is arguably the largest industry that everyone supports , people come here to enjoy our region, leave their money and go home. Last year, tourism had a $5.2 billion impact on our regional economy and was responsible for 170,000 jobs.
Without the transient occupancy tax, sales tax and other revenues from tourism, San Diego would have to find other sources of revenue for its major capital projects, such as a ballpark and central library, etc.
To attract tourism, you need attractions. That may sound overly obvious, but it isn't. Tourists go where there are many things to do and where there are new things to see. That means we need attractions like the San Diego Zoo, SeaWorld, Legoland and Mission Bay Park. It also means those attractions need to be refreshed, updated and enhanced periodically.
After all, when Disney opens a new $1.5 billion theme park , California Adventure , some 90 minutes away, our region suffers. In fact, Disney is contemplating a third park in Anaheim in order to keep tourists in that area for the entire length of their stay in Southern California. To compete with that, we need new things in San Diego. We need SeaWorld to be able to proceed with its plans!
It's easy to fall into the trap of thinking SeaWorld is strictly for tourists and therefore shouldn't do anything that somehow affects "our Mission Bay" or our region. First, SeaWorld is for all of San Diego and second, SeaWorld is an excellent corporate citizen that does only good things for Mission Bay and our region.
We need SeaWorld for its positive effect on tourism. It is one of the primary reasons people come to San Diego, attracting 35 percent of all visitors to the region. SeaWorld accounts for a $1 billion annual impact on the economy, generating $6 million in transient occupancy taxes and collecting $4.4 million in sales taxes every year.
SeaWorld isn't subsidized by public funds. In fact, it pays $6 million in annual rent to the city and $2.5 million in property taxes to the county.
SeaWorld provides jobs. It is responsible for 10,000 jobs in the region and is the single-largest employer of youths in San Diego. The awards it has received for hiring the disabled and other excellent work practices are too numerous to list.
SeaWorld is one of the region's most significant educators. Since opening in 1972, it has hosted more than 6 million education program participants. Its formal education programs range from instructional field trips (2.5 million participants as of 1999) to Camp SeaWorld (25,000 participants as of 1999) to outreach programs throughout the western U.S. (reaching almost 150,000 students in 1999).
SeaWorld is a model corporate citizen in the environmental arena, taking leadership roles in programs such as "I Love a Clean San Diego" beach cleanup and the "Think Blue" clean-water campaign, and is regularly recognized as a top recycler by the city of San Diego and the state of California.
Why do we need SeaWorld? I couldn't possibly count the reasons.
If SeaWorld Can't Refresh?
If San Diego were to hold SeaWorld back from pursuing its plans to refresh and enhance the theme park, the effects would be devastating.
To begin with, there would be a devastating business impact. SeaWorld wouldn't be able to attract repeat visitors. People don't come back for the same thing year after year; they go perhaps every three to five years. SeaWorld wouldn't be able to compete with newer attractions like the California Adventure in Anaheim. Attendance would decline, perhaps slowly, but inevitably.
If attendance declined, revenues to the city, county and other governmental entities would decline. Transient occupancy tax revenues would decline, forcing the city to look elsewhere for capital improvement funds. Can you say, "higher taxes?"
We would restrict SeaWorld's ability to succeed, cutting off our nose to spite our face. Before Anheuser-Busch bought SeaWorld, we saw what happens when a park goes into decline. Even more dramatically, SeaWorld of Ohio was forced to close because of restrictions that hampered its ability to compete.
Do we really want to risk having SeaWorld go into a downward spiral and possibly even close? Would environmentalists really rather see an abandoned site on a poorly maintained bay than to allow SeaWorld to continue to be SeaWorld?
If Not SeaWorld, Then What?
If we don't have SeaWorld , admittedly a worst-case scenario , what would we have?
There are those who think we would have a pure Mission Bay Park as originally intended. Well, that wasn't what was intended. The city meant for a portion of the park to be commercially developed to provide the revenues to support maintaining the rest of the bay as a park.
Without those revenues, maintenance and improvements would be deferred. The park would get worse, not better. There would be no funds to support treatment of runoff or other water treatment solutions. Grounds would not be as well kept up and the park would get seedy.
Or we might see what Ohio saw , acquisition of the theme park by Six Flags. Personally, I would much prefer to have SeaWorld here, a marine-theme park with an emphasis on the environment and education.
Who wouldn't, knowing what the alternatives are?
SeaWorld must be allowed to proceed with its master plan update and the projects contained in that update. I urge the City Council and residents of San Diego to support our SeaWorld.
Reinders is president and CEO of the San Diego Convention & Visitors Bureau.