Tourism---SeaWorld General Manager Bill Davis leaves for Busch headquarters post
Sunday, January 28, 2001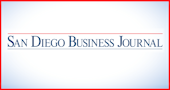 A replacement will be named in upcoming weeks for SeaWorld San Diego General Manager Bill Davis, who will be heading to Busch Entertainment's St. Louis headquarters for a newly created position.
In an interview late last week, Davis said the decision on a replacement would come from Victor Abbey, Busch Entertainment chairman and president.
To his knowledge, Davis said, the decision had not yet been made.
Based on previous situations, it's "highly likely" that a successor will be named from within the Busch Entertainment parks, a park spokesman said.
As for Davis' new job, his title will be corporate vice president for guest services, which will include overseeing issues such as food service, risk management, in-park merchandise, safety, corporate promotion and hospitality and park operations functions for all of Busch Entertainment's nine theme parks.
Along with the San Diego park, there are SeaWorlds in Orlando, Cleveland and San Antonio; Busch Gardens parks in Tampa, Fla., and Williamsburg, Va.; Adventure Island in Tampa; Water Country USA in Williamsburg; and Sesame Place, a Sesame Street-themed children's theme park in Langhorne, Pa.
Davis, 54, said he's "thrilled to have the opportunity to have a larger impact" in the company. He expects to travel back and forth for the next few months before permanently relocating to St. Louis with his wife, Becky.
Davis has a bachelor's degree in marketing from SDSU.
He began in the industry in 1973 as a photographer at SeaWorld San Diego, and has been with the SeaWorld parks ever since.
Faced with a layoff at the San Diego park, he took an offer to enter SeaWorld's marketing and sales department.
After other related positions with SeaWorld parks, including marketing director for the parks' former restaurant division, he was named general manager of SeaWorld Orlando in 1988.
Davis was then transferred back to San Diego, this time as executive vice president and general manager, in January 1997.
In leaving San Diego, Davis will relinquish several board positions with local organizations, such as the San Diego Regional Chamber of Commerce, the Mission Valley YMCA and the San Diego Convention & Visitors Bureau, where he was incoming chairman of the board.