Sports Biz---Indoor soccer now drills its players on CD
Monday, January 8, 2001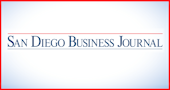 Fotoball USA, Rawlings Agree to Licensing Deal To Market Golf Products
Professional indoor soccer has been around the United States for more than 20 years, yet many don't understand the fundamentals of the game.
That's according to San Diego Sockers General Manager and Head Coach Brian Quinn.
Quinn and his assistant coach, Ralf Wilhelms, have found a way to change that. They put together the first interactive CD to serve as a guide to the sport.
"This is the first training guide for indoor soccer in the world," Quinn said. "We wanted to create interest with indoor coming back to San Diego. (The disc) will give people better insight of what the game is about."
The disc, which retails at $19.95, will soon be available at San Diego County Wal-Mart stores, Quinn said. It is also available on the Indoor Soccer Coach's Association Web site at (www.isca.net).
The Sockers will resume play in August of this year after a nearly five-year hiatus.
- - -
Ticket Tech: The Padres signed a contract with Long Beach-based Paciolan for all technology related to ticketing, beginning with the 2002 baseball season. The services license agreement will also include Paciolan's e.Venue software, which will create an interface between the team's official Web site and the league's Internet portal.
Terms of the agreement were not disclosed.
Teeing It Up: Fotoball USA Inc. recently agreed to a licensing agreement with Rawlings Sporting Goods Co. to market golf products containing the Rawlings brand. Fotoball will market the products through a newly created golf division of the company, known as Rawlings Golf. The division will pursue middle market golf enthusiasts offering high-quality, affordable products ranging from $175 to $350.
The licensing deal is a five-year agreement with two five-year renewal terms and gives Fotoball the exclusive global rights to sell golf clubs and golf-related merchandise under the Rawlings brand name.
- - -
The Official Ball: The Woman's United Soccer Association, the league of the San Diego Spirit, recently signed a two-year deal with Select Sport America to be the official game ball of the league. The deal is said to include cash, royalty and trade components, but no specifics were available.
New Name: Cricket Communications, a subsidiary of locally based Leap Wireless International, recently won approval to purchase the naming rights for Independence Arena in Charlotte, N.C. The new name of the 10,000-seat facility will become Cricket Arena.
Cricket Communications will pay $150,000 a year for the next five years for naming rights on the arena. It's home to the Charlotte Checkers minor league hockey team.
Cricket Communications will begin to offer services in the Charlotte area that will allow customers to make local calls and receive calls from anywhere with a wireless phone for $29.95 month and requires no contracts.
The deadline for the next Sports Biz column is Jan. 11. Please send sports business related items to Ward at dward@sdbj.com.