Real Estate---Firms seeing dividends from Otay Mesa projects
Monday, January 8, 2001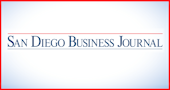 When Ware & Malcomb Architects closed its San Diego office in 1996, it ended a 14-year-long presence in the county.
The company, which had designed Downtown's Imperial Bank tower and other local office and industrial projects, saw its business dry up in the recession of the early 1990s.
Now, after reopening in San Diego in the spring of 2000, the Irvine architectural firm is busy designing concrete tilt-up buildings on Otay Mesa, a company official said. It's apparently riding a wave of new residential and commercial development in the South County area.
"We've had so much work down there because we opened an office and showed we are committed to having a strong presence in San Diego," said Ruth Brajevich, the company's marketing director.
The company just won the design contract for Britannia Corporate Center, a six-building industrial development on 15.9 acres at the southeast corner of Siempre Viva Road and Britannia Boulevard in Otay Mesa.
Master Development Corp. of Newport Beach owns the land for the proposed 275,000-square-foot project, she said.
The six buildings will range in size from 25,000 to 84,000 square feet and will be available for sale or lease, she added.
No tenants have signed up yet, said Bruce McDonald, president of Master Development. He estimated rental rates would be in the 50 to 52 cent per-square-foot monthly triple-net-rate area.
The area is a hot market, he said, which bolstered his confidence to erect the buildings without pre-leasing them, he said. The project is the first in Otay Mesa for Master Development.
Ware & Malcomb also recently designed Pacific Rim Pointe, a two-story office, industrial and research and development building totaling 153,000 square feet, for International Real Estate, which is based in Otay Mesa.
The abundance of flat, vacant land is bringing more industrial developers to Otay Mesa, said Marney Cox, chief economist for the San Diego Association of Governments.
The projects designed by Ware & Malcomb aren't the only ones going up in South County. R.G. Petty Construction Co. of San Diego recently finished Bee International's 94,000-square-foot concrete tilt-up building at the Ocean View Corporate Center.
In November, National City-based McMillin Homes said it would build this year the first two neighborhoods at Vista Pacifica, a 204-acre parcel of land on Otay Mesa. The property was formerly known as Robinhood Ridge.
A total of 242 homes will be built in the two projects, said Sandy Perlatti, senior vice president for McMillin.
Having industrial land adjacent to master-planned residential communities makes it possible to create a true live-work community in Otay Mesa, said Russ Valone, president of MarketPoint Realty Advisors of San Diego. It will reduce commuter traffic throughout the metropolitan area, he said.
That appears to be the direction the area is heading, with Brookfield Homes and Shea Homes local divisions, saying this past summer they jointly purchased 1,200 acres on Otay Ranch, north of Otay Mesa. The companies plan to build about 2,300 homes at the site.
One problem facing development in the area is the lack of streets, sewers, power and other infrastructure. The county Board of Supervisors this summer formed a special infrastructure assessment district to raise money for the improvements in the East Mesa area, an approximately 3,300-acre zone just east of the San Diego city limits.
On Jan. 1, San Diego-based Borderlink announced it had teamed up with Time Warner Telecom to bring high-speed Internet access to the Otay Mesa area as well.
"Until now, the businesses in Otay Mesa have not had access to high-speed Internet solutions," said Kene Ovenshire, a Borderlink spokesman.