Finance---Investors file paperwork for new North County bank
Monday, January 8, 2001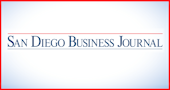 S.D. National Reports Big Earnings Increase for 1st Nine Months of 2000
Several North County investors have banded together to form a new local bank.
Called Pacific Community Bank, the newest financial institution in the making filed an application last month with the California Department of Financial Institutions to begin soliciting more investors for the project.
James Kelley, the proposed bank's president, said the initial goal would be to raise between $7.5 million and $9 million to capitalize the bank.
When authorized, the shares will likely be traded on the Nasdaq over-the-counter bulletin board, he said. He expected to be up and running at the bank later this year.
The bank's first office will be in San Marcos.
Kelley, who has 16 years' banking experience, said several others have joined the board of directors as equity investors in the new venture.
John Plavan of Escondido-based Plavan Petroleum is chairman of the board of directors. Robert Cairns, a Carlsbad CPA, Michael Lensner, owner of Life Medical in Carlsbad, and Mark Santar of Marcoin Products in San Marcos are on the board of directors, along with Michele Hubbard of Holdrite, a San Marcos plumbing manufacturer, and Stuart Rubin of Rubin Insurance in San Diego, Kelley said.
"We plan to be offering the same kind of community services that banks like Valle De Oro and Scripps (Bank) offered," Kelley said. "We'll be doing consumer and small business administration loans, some construction and real estate loans too."
- - -
Big Gains: San Diego National Bank had earnings of $20.8 million for the nine months ended Sept. 30, a bank spokeswoman said.
The earnings represent a 21 percent increase more than the same period in 1999, said Cynthia Stumbo.
Total assets at the bank increased to $1.38 billion, an 18 percent increase over September 1999. Deposits were $1.21 million, an increase of 14 percent, and loans grew 21 percent to $1.16 billion from September 1999 to September 2000, she said. Earnings also increased for the three months ending Sept. 30 to $7.79 million. That's an increase of 21 percent more than the $6.4 million earned in the same period in 1999.
The bank opened a new branch in Encinitas during the third quarter and also celebrated the reopening of three branches that were remodeled, she said.
New Owners: With the recent announcement of Centennial First Financial Services' acquisition of Community West Bancshares, parent of Escondido-based Palomar Community Bank, one local business executive is very happy.
He's Harold Neil Schaffer, one of the founders of Nations Insurance Services LLC. The Redlands bank is already an equity participant in his financial services firm and intends to offer insurance and investment advice through it at the local bank, Shaffer said.
That will be the first time the newly formed, locally based Nations Insurance Services has a local customer.
- - -
Bank Notes: American Residential Investment Trust, a Del Mar-based mortgage REIT, has declared a 20 cent per-share fourth quarter dividend for its common stockholders. The company's board of directors also authorized the repurchase of up to $1 million of its common stock. ... California Coast Credit Union is donating $5,000 to help San Diego READS. The credit union book drive in September and October collected more than 2,600 books at its six branch offices. San Diego County Credit Union collected more than 2,100 toys at its branch offices to benefit children being helped by the Salvation Army.