Real Estate Barnhart completes Sharp construction project
Monday, February 12, 2001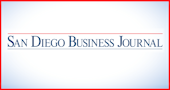 Two commercial construction contractors finished up large projects recently, while smaller jobs kept their competitors busy.
Douglas E. Barnhart Inc. of San Diego finished a medical office building for Sharp Rees-Stealy in Rancho Bernardo late last month.
John Sandhofer of Tucker Sadler & Associates of San Diego designed the two-story steel frame building on Via Tazon, said Tami Barnhart, a spokeswoman for the contractor.
The 58,000-square-foot building features a glass and stucco exterior and will provide space for primary and specialty care services as well as an urgent care center, she said.
Subcontractors on the project included A.O. Reed of San Diego, Alonso Painting of Spring Valley, Astra Flooring of San Diego, Bergelectric of Escondido, Geogrid Retaining Wall Systems of San Diego and J.D. Paving of San Marcos.
Sundt Construction Inc., of Phoenix, formerly known as Ninteman Construction Co., put the final touches on the Jenny Craig Pavilion, a 5,100-seat multipurpose arena at the University of San Diego, late last month as well.
Tom Tourtellott, a spokesman for Sundt, said the project cost $17.5 million and involved building a 101,000-square-foot arena on an approximately 2-acre site. Mosher/Drew/Watson/Ferguson Architects of San Diego designed the facility to blend in with the Spanish Renaissance-style campus architecture, he said.
The arena has 24 tiers of seats descending from the concourse level, where a 5,000-square-foot lobby and two food-service areas are located.
Sundt's subcontractors for the project, all from the San Diego area, were Modern Masonry, Naton Engineering, Southland Electric, Collins Plumbing, Bannister Steel and Ashbury Steel.
Sundt's own crews poured more than 5,000 cubic yards of concrete for the project, he said.
Meanwhile, Roel Construction Co. Inc. of San Diego finished the site work for the Salva tion Army's Ray and Joan Kroc Community Center on University Avenue in east San Diego.
Jacquie Johnston, a spokeswoman for the contractor, said construction of the new street median in front of the center has reached the 50 percent complete mark as well.
When it is completed, the 175,000-square-foot community center will have an education complex consisting of a Salvation Army building, performing arts theater, gymnasium, ice rink, aquatic center, recreational field and family center, she said. It's due to be completed in mid-2002.
Dave Stellar of Austin Veum Robbins Parshalle of San Diego designed the facility. Other design consultants were Martin & Martin as structural engineers, Sevier Siskowic Engineers for mechanical engineering, Geocon as soils engineer, Michael Wall Engineering as electrical engineer. Project Design Consultants did the surveying and Spurlock Poirier was the landscape architect, she said. All are based in San Diego.
Three San Diego-based contractors also said they have finished up tenant improvement projects in the past few days.
Davis & Adams Construction Inc. completed a project for Reef Brazil, an international sport shoe manufacturer, on Chesapeake Drive on Jan. 31. Shawn St. Louis, a spokesperson, said the 8,400-square-foot, $325,000 office build-out was designed by architect Eduardo Maldonaldo of San Diego.
The build-out of an existing warehouse included new heating and air conditioning units, ceiling insulation and new offices.