Finance Local REIT reports fourth quarter losses, files suit
Monday, February 5, 2001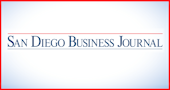 Southwest Community Bank Reports Record Profit for 2000
American Residential Investment Trust Inc. lost money in the fourth quarter of last year, its president said.
The Del Mar-headquartered mortgage REIT lost $566,000, or 7 cents per share, in the fourth quarter ended Dec. 31. That brought its losses for the year to $6.2 million, compared to a loss of $3.9 million for 1999, said John Robbins, chairman and CEO.
The company is publicly traded on the New York Stock Exchange under the symbol INV. Last week, it was trading at around $3.25 a share, down from $15 a share when it went public in October 1997.
The company borrows money on its revolving line of credit to buy mortgages secured by out-of-the-ordinary residential real estate or made to homebuyers with less-than-sterling credit.
American Residential filed suit Jan. 3 in San Diego Superior Court against Lehman Capital, a division of Lehman Inc., and Long Beach Mortgage Co. for breach of contract and misrepresentation concerning a pool of loans purchased by the local company.
Unspecified damages are being sought.
American Residential Investment Trust is setting up a loan origination subsidiary to make loans the parent firm can acquire, Robbins said.
American Residential currently has about $80 million equity in the loans its owns, figures from the company show. However, the market value of its stock is about $26 million.
Mark Riedy, a member of the board of trustees and a University of San Diego finance professor, said the company's prospects should improve now that the U.S. Federal Reserve has lowered interest rates.
- - -
Record Year: Carlsbad-headquartered Southwest Community Bank had a record profit last year, its president said.
The bank tallied a profit of $726,000, or $1.29 per share, compared to a loss of $493,000 or $1.02 per share in 1999, said Frank Mercardante, the bank's president and CEO.
The bank late last month was also awarded Bauer Financial's 4-Star Excellent Rating.
The rating is based on an analysis of current financial data from the bank, said Paul A. Bauer, a founder of the nationwide rating service.
Total assets at the 3-year-old bank rose by more than 81 percent to $86 million from $47.5 million in 1999.
"We're gratified that 2000 was a banner year for Southwest Community Bank on all accounts," Mercardante said. "We achieved a profit swing of more than $1.2 million, added significantly to our asset base and doubled the number of branch locations."
The bank's Internet subsidiary, Financial Data Solutions Inc., also reported progress, he added. The company provides data processing services to other financial institutions.
Last year, its client base grew to 10 from three in the previous year. The total monthly volume of items processed increased more than 400 percent to nearly 4 million as well, he added.
The subsidiary's success has prompted the bank to open a second FDSI processing center in El Monte. It joins the original office in Temecula.
The bank also opened branch offices in Escondido and El Cajon last year and moved its administrative offices from its Encinitas branch to bigger facilities in Carlsbad. A business banker center will open at the Carlsbad facility this month, he said.
Milestone: PeopleFirst.com has now financed $1 billion in auto loans, two-thirds of it in 2000, its CEO said.
That's an increase of about 300 percent more than 1999, said Gary Miller, CEO and co-founder of the San Diego-based Internet company.
"This is a major accomplishment," Miller said late last month. "After just three short years, we are celebrating a milestone as significant as $1 billion in loan originations."
Send your local financial news to Grupe at agrupe@sdbj.com.