Strength of Holiday Sales Is Surprising
Monday, December 24, 2001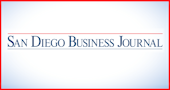 Strength of Holiday Sales Is Surprising
BY LEE ZION
Staff Writer
Bill Keller, co-owner of Le Travel Store in Downtown San Diego, knows exactly how the events of Sept. 11 affected his business this holiday season. Fewer people are traveling, and as a result he's lost customers.

"We kind of rise and fall with the travel industry," he said. "Obviously, it has been a difficult period, and airlines are still not back up to full speed. So we're feeling the pinch."

Sales are slightly off compared to last year. Still, Keller remains optimistic.

His travel store isn't too dependent on Christmas sales. The bulk of his business comes in the spring and summer, and Keller expects the economy and consumer confidence to have rebounded by then, he said.

How retail businesses have been affected by recent events during the holiday season varies from store to store. But the overall prediction is that the economy will recover.

Alan Gin, a professor of economics at the University of San Diego, said the effects of Sept. 11 have abated. Now, the public's main concern is about the economy.

People are cautious, especially in the wake of news that thousands of people have been laid off from work nationally, he said. The economy was weakening and consumer confidence was down even before Sept. 11, Gin said.

Gin predicts retailers who would suffer the most at this time of year are dealers in furniture, appliances and high-end clothing.

"People are, again, going to be more cautious. They're going to be less willing to take on debt that they might need to buy those big products. So those types of retailers are going to be hurt at this point," he said.

However, even sellers of big-ticket items aren't hurting too much. Car sales jumped dramatically in October, spurred by offers of zero percent interest, Gin said.

The overall retail picture is harder to determine, however. At this point there are no hard numbers locally, but national figures seem to show that, not including car sales, retail sales actually increased over last year, he said.

"Retail sales in November were up one-tenth of a percent compared to the previous year. If that is the case, it's not bad, considering the tough economic situation we're in right now," Gin said.

Teresa McTighe, executive director of the Gaslamp Quarter Association, said the situation is shaky. Many retail businesses in the Gaslamp are specialty boutiques, she said

"It does vary, depending on the type of retail," she said. "In general, our retailers are experiencing what a lot of other upper-end specialty retailers are experiencing. Their sales are not as strong as previously."

Most retailers in the Gaslamp are in a "spotty" situation, McTighe said.

Warren Simon, executive director of the Hillcrest Association, said it's business as usual in the popular district.

"I've seen at least as much activity as the previous year , no less. The streets have been busy after 6 p.m., and on weekends it's very heavy, which is equal to last year's activity."

In some cases, Simon has seen increased retail sales for some businesses. The three ice cream establishments in Hillcrest , Ben & Jerry's, Cold Stone Creamery and Moo Time Creamery , have actually increased sales this month. These stores are packed on weekends, even in the cold December weather, he reported.

William Miller, general manager at Westfield Shoppingtown UTC, said the mall has been affected , albeit temporarily , by the recession and the events of Sept. 11.

"That impacted consumer confidence, which in turn impacts retail sales," he said. "But going into the holidays, we actually have seen some upbeat numbers in terms of traffic. Traffic has increased at UTC."

Miller believes that this is true of other Westfield Shoppingtowns in the county, although he doesn't have any figures.

The American response in the wake of the tragedy has helped spur business, he said.

"People just want to get into the holiday mood (The tragedy) changed how people look at life. Shopping centers are a place to see people and be friends, and there's entertainment value as well, and I think people were looking for that. They needed a place to go to, to get away from the news that bombarded us 24/7," he said.

Another factor helping sales is that people are devoting more attention to their families. Also, promotions and sales events in the mall have helped lure shoppers, Miller said.

Miller noted it has taken a lot to bring in customers. The mall's Nordstrom held a large sales event in December , the sort of event that's usually held after Christmas, he said.

Before the start of the Christmas season, retailers were panicky. But so far, as the season has progressed, sales seem strong, although not up to the high numbers of last year, Martin said.

Martin was looking forward to the last weekend before the Christmas holiday, which he predicted would be strong. Sales results for the weekend were not available as of press time.