NEWSMAKERS: Gateway Sponsors Festival Saluting the Military
Monday, December 3, 2001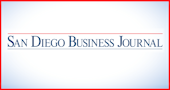 NEWSMAKERS: Gateway Sponsors Festival Saluting the Military
BY BRAD GRAVES
Staff Writer
A free, all-day festival planned for Saturday, Dec. 8, promises to be San Diego's largest-ever salute to the military.

The Gateway Proud to be an American Expo will run from 10 a.m. to 6 p.m. at Embarcadero Marina Park, near Seaport Village.

It will be a chance for individuals and institutions to thank the military, and to lend some support to their families.

Thanks to event sponsors, the military will be treated to a free barbecue, and all comers will be treated to entertainment and exhibits.

Poway-based Gateway Inc. is the event's lead sponsor. The long list of sponsors also includes KGTV Channel 10, KOGO-AM, KURS-AM and XEWT television.

The outdoor event promises music and entertainment on two stages, food booths and beer gardens.

There will be fireworks at dusk.

Local companies, the military services and sports teams will have displays on the midway. Look for fire truck and other emergency service displays.

One special display will be 10 Harley-Davidson motorcycles ridden from San Diego to New York for a Sept. 11 relief fund-raiser.

Those visiting Saturday's expo can learn about volunteer opportunities. There will also be information on child safety, health, finances and computers.

Gateway will let visitors send e-mailed video greetings to the troops, or across town. The computer maker will also produce "the world's largest virtual postcard" a large digital image of the crowd to send to ships deployed on the other side of the world.

A toy drive at the event will benefit military families.

Proceeds from the event will benefit the Navy Marine Corps Relief Society and other local, nonprofit organizations supporting military families.

Downtown-based Limelight Management, San Diego-based Catalyst Cause Marketing and El Cajon-based Cobalt Communications have been putting Saturday's event together. The Port of San Diego as well as the City of San Diego are providing major support.