HIGH TECH: Hate Sites Grow on the Internet
Monday, December 3, 2001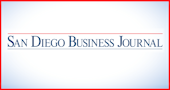 HIGH TECH: Hate Sites Grow on the Internet
Qualcomm Security Technology Shown Before Congress
Brad Graves
Staff Writer
San Diego-based Websense Inc. estimates the number of hate-related Internet sites grew by 70 percent during 2001.

The company is in a position to know.

Websense makes Internet filtering software, which prevents people from calling up Web sites that a computer owner finds objectionable. A business owner might use the Websense product to keep employees from looking at pornography on the job, for example.

Websense, in its latest tally, counts more than 373,000 Web sites hostile to people of a particular race, religion or other unifying factor, or promoting the superiority of a group.

Hate sites frequently fly "under the radar," noted company publicists, saying they are not normally categorized by major search engines or portals.

That makes the job of cataloging them harder for Websense.

So why should a company care if hate sites are so hard to find? Websense publicists note if a worker sees something racist or otherwise objectionable on a co-worker's computer screen, the company could find itself in court.

Websense also markets its filtering software as a productivity tool , saying it keeps people from goofing off on the 'Net when they should be working.

- - -

Wireless Notes: Rep. Randy Cunningham, R-Escondido, hosted a demonstration of Qualcomm Inc.'s Medium Data Rate Satellite Communications System (MDSS) product Nov. 28 at the Rayburn House Office Building.

The demonstration drew a few other members of Congress (including Rep. Susan Davis, D-San Diego) and staffers.

MDSS is technology that lets people on the ground monitor what's happening aboard commercial airliners in real time. Qualcomm demonstrated it in late October at Lindbergh Field.

During both demonstrations, the system plotted the path of a business jet against a map. It showed real-time images from cockpit and cabin cameras, let passengers send and receive text messages and digital photos and beamed flight video to a telephone handset.

At the Oct. 29 demonstration, audio contact with the jet was briefly interrupted, then restored. A Qualcomm spokeswoman attributed the glitch to a faulty headset.

In separate news, San Diego-based Wingcast LLC announced partnerships with two Silicon Valley firms in November.

Kana Software, Inc. of Menlo Park will provide electronic customer service for Wingcast products and services. Sun Microsystems, Inc. of Palo Alto was named preferred technology vendor and will make Wingcast's servers.

Wingcast is the San Diego-based partnership of Qualcomm and Ford specializing in telematics. The word refers to in-vehicle Internet and related services, delivered wirelessly.

- - -

Not Your Detroit Chassis: San Diego-based AP Labs, which designs and produces rugged, air-cooled computer chassis, is doing joint work with Dy 4 Systems of suburban Ottawa, Canada.

AP Labs will supply Dy 4 with chassis and will integrate sub-systems for the Kanata, Ontario company. Together the companies will provide rugged, conduction-cooled chassis for the harsh environment of fighter jets. They plan to go after commercial markets, too.

Founded in 1985, AP Labs serves the military and big-name, prime defense contractors.

- - -

Patentable: San Diego's StratEdge, which deals in ceramic semiconductor packages, has a new patent to its name. Patent No. 6,271,579 covers its high-frequency passband microelectronics package, suitable for gallium arsenide chips used in satellite communications. StratEdge designs and produces the ceramic components.

- - -

Leap Hits Highway 99: San Diego-based Leap Wireless International, Inc. has its first California markets , the San Joaquin Valley towns of Merced and Modesto.

The company also just launched service in Jonesboro and Pine Bluff, Ark.

Leap now counts 32 markets. Company Chairman and CEO Harvey White said with the California launch, the company is "well positioned to deliver on our 40-market buildout plan by early 2002."

In related news, Leap is now selling its wireless customers 18-cents-per-minute long-distance service to Mexico. The company is touting that in its Spanish-speaking Central Valley markets, as well as in Phoenix and Tucson, Ariz., Albuquerque, N.M., and Denver.

- - -

Outsourced: The city of San Diego has hired Edison, N.J.-based RCG Information Technology to come up with a common information technology project management strategy for all city departments. RCG said the city will pay $150,000 for eight weeks worth of work. The contractor will establish formal project management policies, tools and methodologies for the city, which typically has 160 IT projects under way at any one time.

Send high-tech news to Graves via e-mail at bgraves@sdbj.com .