Trade International markets opening to small businesses
Monday, August 27, 2001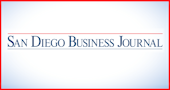 Trade: Local Firms Making Inroads
Throughout the World
Small companies in San Diego are doing big business internationally.
Some San Diego businesses have entered into international trade with only a handful of employees at their disposal. Other companies may be small, but they have the support of a larger parent company.
However they do it, small companies see big dividends from their international ventures.
Figures in a recent study quantified the participation of small businesses participating in international trade.
According to the study, 459 companies in the 49th Congressional District export products from San Diego for a total of $2.4 billion in revenue in 2000. And 71 percent of the companies are small businesses with less than 100 employees.
The 49th District, respresented by Rep. Susan Davis, a Democrat, represents an area of the county stretching from Imperial Beach to Pacific Beach and La Jolla, including Mission Valley, Downtown San Diego and surrounding communities.
It was one of five California congressional districts studied by Global Trade Information Services Inc. of Columbia, S.C., for goTrade California, on behalf of the Business Roundtable in Sacramento.
Dave Puglia, director of goTrade California, said, "So many small companies have seen opportunity abroad. It's a positive aspect of trade that should be considered this year in Congress."
Among the local small firms sucessful in trade were:
- San Marcos-based Nimbus Water Systems manufactures reverse osmosis water treatment systems for residential, commercial and industrial uses. Revenue in 2000 was $4 million for the 33-year-old company, which employs about 25 people locally. Nimbus began exporting in the mid- to late-1980s and actively trades with about 40 countries in Asia, South America and Europe.
Mike Faulkner, former CEO of Nimbus, is now president of Nimbus Water International, an export management company for Nimbus Water Systems.
Nimbus was open to the large market outside the United States.
"With very little investment for us, we were able to significantly increase our sales," Faulkner said. "It doubled the revenues of the company and helped double the work force."
- LH Systems LLC, headquartered in Rancho Bernardo, supplies products for producing, reading and analyzing aerial images to businesses and governments in more than 65 countries around the world. The products and the company's staff assist customers with engineering, telecommunications, environmental planning and other land-related information applications.
About 20 percent of the company's products are developed in San Diego, where the company has about 45 employees. Clients in the United States and Canada make up about 30 percent of LH Systems' sales, which are about $40 million to $42 million each year.
Worldwide, the company has about 150 employees, with seven foreign subsidiaries. It is a wholly owned subsidiary of Leica Geosystems, a publicly traded company on the Zurich Stock Exchange. LH Systems also works with various third-party distributors.
Bruce Wald, president and CEO, said the typical selling cycle with LH Systems' clients usually lasts six to 18 months, because of the relationship-building and information sharing involved in selling products ranging from $150,000 to $1 million in price.
"We have low unit volumes, but very high sales," Wald said.
- Kim Benson and her husband, Robert Cange, co-own Cange & Associates International, an export management company with four employees in Rancho Bernardo. The firm is an international sales and marketing department for its three clients, high-end household appliance manufacturers. Cange & Associates' largest client is Viking Range Corp., a Mississippi company with $200 million in sales in 2000.
"We go out and identify and establish international distributors for our clients," Benson explained. "The type of business that we're in allows us to be in a place where our clients are not." The company's other two clients, Northland Corp. and Marvel Industries, are located in Greenville, Mich., and Richmond, Ind.
Through Viking, Cange & Associates is active in Latin America, Asia, Mexico and Venezuela.
For small companies, international trade can be daunting because of the investment of time and money and the manpower that could be involved.
"One thing I learned is that travel is an important part of it," which could be difficult for some companies to handle financially, Faulkner said.
Small companies can take advantage of many resources. Nimbus placed ads in Commerce Department publications distributed to embassies around the world, which helped generate sales leads.
"A lot of entrepreneurs in other countries are looking for products," Faulkner said.
"To me, the real key to success in international business is not to make assumptions," Benson said. First, don't assume large companies are more efficient in their international business than small companies, she said.
Second, do not assume there is no market for a product in certain countries. Benson suggests assuming there is a market and to begin analyzing how to enter the market.
Third, do not assume which products will suit a particular country. Ask the people in that country, she said.
Wald says the financial part of international business can be a roller coaster ride, because of the length of time it takes for LH Systems to complete sales. Finance and politics can both cause delays.
Understanding other cultures is a major priority in international business. Wald says it contributes to a company's credibility.
Wald has been on the board of the San Diego World Trade Center for a year and a half. He said it's a way to understand international markets and show customers through trade missions that the company is concerned about the political and economic issues in their countries.
"Our customers want to know we're local," Wald says. "It's important to create a physical presence even as a small company. That's why we set up subsidiaries in other countries."
For companies with tighter budgets, that means going through a local distributor.
Benson said her husband got the sales lead for Cange & Associates' first client at a networking event. Canadian overhead door manufacturer Thermodor became the company's first client.
"Because we had that large name, we could approach other companies," she said.
The Business Roundtable, which has 100 member companies in California, is an association of chief executive officers of U.S. corporations that advocates for public policy issues.
The Business Roundtable has goTrade coalitions in 26 states, which promote and educate on trade issues.
Last year, goTrade chose five California congressional districts to study based on regional diversity and whether the districts had new congressional representatives. Puglia said Susan Davis showed an interest in international trade issues.
"The fundamental reason for doing this is as Congress considers Trade Promotion Authority, it's important to have the facts of the impact of international trade," Puglia said.
Trade promotion authority would give the president the ability to negotiate trade agreements with other countries without numerous revisions from Congress.
Global Trade Information Services compiled the numbers in the study using public database information and surveys of companies. Sources included the U.S. Department of Commerce, the U.S. Census Bureau and the World Trade Atlas.