Rail Coastal commuters find smooth ride, no congestion
Monday, August 27, 2001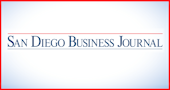 The Coast Express Rail, otherwise known as the Coaster, is holding its own as a successful mode of transportation for coastal commuters.
Nearing its seventh year of operation, the Coaster's passenger rail services are gaining popularity while marketing itself as an alternative that's on the right track.
"It's a more enjoyable time than sitting behind the wheel in traffic. I think it's one of our biggest conveniences , using the Coaster," said Tom Kelleher, spokesman for the North County Transit District.
Avoiding that "dreaded commute," also known as the horrendous Interstate 5-805 merge, is one of the more attractive incentives Kelleher named as why commuters are choosing public transportation.
The Coaster targets residents who live in coastal North County and who travel the Interstates 5 and 805 corridors to get to and from work.
"When you get to your destination you're a bit more relaxed because you could have chosen to read a book, listen to music, or enjoy the beautiful view," Kelleher said.
- Coaster Reduces Air Pollution, Congestion
Ron Zollars, director of public affairs for Science Applications International Corp., encourages employees to not only savor the view, but to take advantage of the ways the Coaster contributes to the environment by reducing air pollution and eliminating some of the dangers of driving.
"It changes your lifestyle so you're not worried about your commute (and) helps improve the overall quality of our city," Zollars said.
Along with using the Coaster, SAIC encourages employees to participate in other alternative transportation programs such as Bike to Work Day. SAIC even provides its Coaster commuters a pick-up and drop-off shuttle service from the Sorrento Valley Coaster station to SAIC headquarters in Campus Point, between UTC and North Torrey Pines.
To offset the costs of commuting, the local research and engineering firm also has an incentive program that offers employees a $25 monthly subsidy to be used toward transportation fares and uses.
"We encourage any form of alternative means of getting to work," Zollars said.
Starting off with a 14-passenger van in July 1998, the popularity of SAIC's shuttle service led to the purchase of a 20-passenger minibus that runs nearly every half-hour to and from the Sorrento station to Campus Point.
SAIC has roughly 45 to 50 Coaster commuters a day and averages about 100 commuters monthly, Zollars said
"We provided a service that wasn't sufficiently being met, so SAIC decided to pay the cost and guarantee a ride," he said.
The company was recognized for its efforts to sponsor the employee shuttle on June 29 when San Diego Mayor Dick Murphy presented it with the San Diego Association of Governments Community Transportation Award.
"We were really pleased with that," Zollars said.
- Nearly 5,000 Commuters Daily
Transportation incentive programs and hassle-free commutes are other reasons people ride the Coaster.
"Transportation is only useful if it's there when people want to use it," Kelleher said, and it seems that quite a few people are eager to use the Coaster.
Since the Coaster began operation in 1995, ridership has grown to service 1.2 million passenger trips, or one-way trips, per year, he said.
According to Coaster statistics, nearly 5,000 passengers commute every weekday along the 42 miles of track the passenger trains travel between Oceanside to the Santa Fe Depot in Downtown San Diego.
Oddly enough, the increase in commuters has been due largely to word-of-mouth and not through NCTD advertisements, Kelleher said.
"We haven't been actively pursuing passengers because there's no place for them to park," he said.
- Expansion Plan Targets Parking
Increasing the number of parking spaces for commuters has been a project in the making for several years, Kelleher said. But issues such as lack of funding and disagreements between cities over transit requirements and developmental planning, contributed to a halt in the project.
Recent board approval has allowed NCTD to enact its expansion plan including increases in schedule times to allow for more frequent service, as well as more parking lot spaces at all its eight Coaster stations.
The NCTD is working to secure the funding needed for a $7.5 million parking garage to be based at the Oceanside hub.
This will add up to 100 or more extra parking spaces for commuters at the Oceanside Transit Center.
Encinitas will develop 74 to 92 new spaces by fall, and a plan is in the works to develop another parking garage for the Solana Beach station. A completion date has not been set as of yet.
The Coaster's limited midday schedule has also changed, with four newly added departures from Oceanside to Downtown San Diego.
"People just don't want to work 9 to 5 anymore and to be really effective we need to have a complete service schedule," Kelleher said. "Extra midday trains really make it (the Coaster) much more user-friendly."
The NCTD's expansion plan also includes an increase in fares this year.
Fares vary depending on the number of zones a passenger has traveled. A zone is the distance traveled between each Coaster station.
The Coaster has four zones that go from the Oceanside Transit Center and Carlsbad Village Station in Zone 1 to Zone 4 ending at Old Town and the Santa Fe Depot in Downtown.
The new rates range from a 17 percent increase for a two-way trip within Zone 1 to a 27 percent increase for a two-way trip within Zone 4.
An increase hasn't occurred since 1998 and compared to other agencies, such as Metro-Link of Los Angeles, the Coaster fare is the lowest of any train in California with a 40-mile travel distance, Kelleher said.
Both the schedule additions and fare increases become effective as of Oct. 1.
The NCTD may have a lot on its plate for now, but the overall goal still remains the continual increase in numbers of commuters, Kelleher said.
"We're always trying to make sure we can get more people riding," he said.