'Light the Night' Walk Raises Money for Research
Monday, August 20, 2001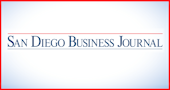 On September 15, thousands of San Diegans will shine a light on cancer.
Some 2,500 cancer survivors, people fighting the disease, friends and family members will unite to raise awareness of cancer during The Leukemia & Lymphoma Society's Third Annual Light The Night Walk.
"Participants carry flickering red and white balloons along a three mile walk within their communities, creating a breathtaking sight and spirit of fellowship among all who carry them," said Judy Cleborne, spokeswoman for the local chapter of The Leukemia & Lymphoma Society.
Cancer survivors will be handed white balloons. All other participants are asked donate a minimum amount of $25 for carrying a red balloon.
Last year, the event helped raise $140,000 benefiting cancer research at UCSD, The Scripps Research Institutes, The Salk Institute, the Sidney Kimmel Cancer Center and the Burnham Institute.
This year, the leukemia society hopes to boost donations to $175,000.
"The walk has added millions of dollars each year to our programs to support research, community education, patient advocacy and patient assistance," said Cleborne.
Event sponsors include biotechnology firm Idec Pharmaceuticals Corp. of San Diego, which sells the lymphoma drug Rituxan; Swiss drug maker Novartis AG, which recently received government approval for a leukemia drug dubbed Gleevec; the San Diego Padres; Blum & Clark Accountancy Group; and KyXy 96.5 Radio.
The event kicks off with a pre-walk celebration featuring live music and refreshments at Embarcadero Marina Park South.
The walk begins at 7 p.m. and goes along the waterfront to Broadway Pier, said Cleborne.
For more information visit the Web site (www.lightthenight.org).