High-Tech Sony Online takes TV's 'Dating Game' to the Web
Monday, August 20, 2001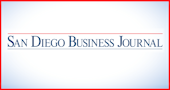 Verizon Sells Ericsson Phones, Revs Up CDMA
It had to happen.
San Diego-based Sony Online Entertainment has already brought out Internet versions of game shows like "Jeopardy!" and "Wheel of Fortune."
Now it offers "The Dating Game Online." Imagine a cross between chat rooms and that old TV staple , the one where the main contestant asked for the romantic opinions of bachelor (or bachelorette) Nos. 1, 2 and 3.
People who log on at Sony's gaming site (www.station.com) can watch "The Dating Game Online" as audience members.
Those who feel bold enough can actually play the game in one of Sony's chat rooms. Before playing, the Web site lets you pick a "handle" or a screen name. You also select among several attractive, animated cartoon images to decide which appears onscreen in your place.
The language and subject matter can get randy, so Sony has labeled the game with a warning, saying the site is for people age 18 and older.
The warning continues: "Sony Online Entertainment Inc. does not investigate nor accept responsibility for claims made in games or subsequent communications. The screening of other players is solely the responsibility of the player."
If I read that right, that means the witty and attractive cartoon character, whom you eventually might agree to date, could turn out to be someone entirely different. Sounds suspiciously like real life.
Sony's local publicists cite Jupiter Media Metrix research saying 5 million U.S. singles have turned to online dating to find a special person.
Still, with the potential pitfalls of online romance, I'm waiting for some bright entrepreneur to come out with a Dating Help Desk.
- - -
Columnar Components:
of San Diego's wireless telecom providers, Bedminster, N.J.-based Verizon Wireless, has inked an agreement to sell handsets from the Swedish telecom giant Ericsson. Up for sale will be Ericsson's Web-enabled A1228c model, which operates on both analog networks and those using a homegrown technology: Qualcomm Inc.'s Code Division Multiple Access (CDMA) air interface. Verizon and Ericsson are also testing out some advanced CDMA (called CDMA2000 1xRTT). It's adapted for sending data , like Web sites , rather than voice. Santa Ana-based Ingram Micro is taking automated tape backup products from San Diego-based Overland Data, Inc., adding hardware from other manufacturers, bundling those components with services and selling the result as a storage area network solution. With $30.7 billion in annual sales, Ingram Micro bills itself as the largest global wholesaler of technology products and supply chain management services. Residents of Mountain View who need simple building permits (for a water heater, tub enclosure or roof replacement) get them through a San Diego company. GovPartner runs the e-commerce building permit system for this Silicon Valley city, operating it from a remote data center. GovPartner is an affiliate of Berryman & Henigar, Inc., a Rancho Bernardo company that specializes in civil engineering and municipal government services. The "Eddies," or Education Software Review Awards, are out. The ComputED Gazette of Carlsbad presents the awards to software publishers from across the country. San Diego-based Lightspan, Inc. was recognized for "Liquid Books: The Adventures of Adelita and Bo." The complete winners list is at (http://computedgazette.com).
Send high-tech news to Graves via e-mail at bgraves@sdbj.com.