Editorial Thanking San Diego's other Mr. Baseball
Monday, August 20, 2001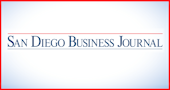 As the season winds its way from the dog days of summer to fall's pennant chase, San Diegans will get a last chance to offer a tip of the cap to the city's Mr. Baseball, Tony Gwynn.
Ending a remarkable 20-year career filled with batting titles and Gold Glove honors, Gwynn, who retires when the season concludes in late September, will then take his place alongside San Diego's baseball icons Ted Williams and Dave Winfield. The fanfare and adulation for Gwynn during the season's closing days will be unmatched. Yet as much as Gwynn deserves the reverence, he's not alone in helping write this most recent chapter of San Diego's baseball history.
In fact, in his own way, Larry Lucchino may be San Diego's Mr. Baseball. Like Gwynn, Lucchino will retire from his full-time baseball duties as the Padres' president and CEO at the end of the season. Similarly, Lucchino also has suffered through some of the franchise's darkest days while sipping the nectar of a World Series appearance.
But more than a front-office mouthpiece, Lucchino has woven the Padres into San Diego's fabric. Taking over from the debacle that was the Tom Werner regime in 1994, Lucchino and owner John Moores brought the team back from the ashes of the infamous "fire sale" of players and weathered the players' strike of 1994 and early '95.
A few trades and a big helping of Bill Veeck-like marketing brought back the fans, and by 1996 the Padres recaptured a disenfranchised city and made the playoffs. As the Padres made their run at a world championship in 1998, Lucchino engineered the push for a new Downtown ballpark.
A major player in building Oriole Park at Camden Yards in Baltimore, Lucchino knew what such a facility not only could do for the franchise, but also for the city itself. That project, of course, has been delayed in the courts by at least two years. Most estimates place the ballpark's opening in spring of 2004.
Yet Lucchino's vision for revitalizing a neglected portion of Downtown never wavered through the morass of court actions. Though angered by a handful of ballpark opponents, Lucchino nevertheless pressed ahead with a firm, positive attitude.
Seeing his work is nearly complete now that it appears the project has broken through the red tape and lawsuits, he will remain as a consultant to the team on the project. While it's unlikely a monument will be erected at the new ballpark in his honor next to Gwynn, Winfield and Williams, Lucchino has shaped San Diego's baseball landscape for the next century.
Later next month Lucchino will be among the thousands applauding Gwynn as he makes his final appearance as a San Diego Padre. Such commitment to the team is just part of his nature.
But give credit where credit is due. Lucchino deserves recognition for helping redefine baseball in San Diego.