Publisher's Notebook Foundation recruited for FleetWeek
Monday, August 13, 2001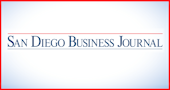 San Diego is home to the largest military homeport in the free world, and in the fall of each year the community honors and salutes the military presence in the region.
Fleet Week San Diego has become the nation's premier military appreciation event and, as such, is now going to be administered by a public benefit corporation, the San Diego Fleet Week Foundation.
Formal ceremonies on the deck of the USS Anchorage on Aug. l commemorated the kickoff of the new corporation. Admirals and business leaders joined together to watch as the Foundation Chairman Pete Litrenta, senior vice president of Manchester Resorts, accepted a check for $40,000 from Bill Geppert, chairman of the board of the San Diego Regional Chamber of Commerce. The check will be used as seed money to grow the foundation.
Geppert, the vice president and general manager of Cox Communications, was instrumental in putting the newly designed Fleet Week Foundation together and moving it from the chamber to its new home.
The chamber has run Fleet Week for the last four years. By handing it off with seed money, the chamber now allows the new Foundation's staff and board of directors to grow the event to even higher levels.
Leading the charge is a team of new executives led by Executive Director Tom Caughlan, former chief of staff at Marine Corps Air Station Miramar, and Deputy Director Debbie Draheim, a former Navy officer.
San Diego is home to more than 115,000 active duty military personnel. Everything from nuclear aircraft carriers and submarines, to F-18 fighters and some of the world's most talented Marine infantry men and women call the region home.
Many of us think of these military personnel as serving America twice. First with their military service, and again as Boy Scout and Girl Scout leaders, little league coaches, church lay leaders and countless other volunteer positions as they participate in the neighborhoods where they live. They give back in many ways, from paying taxes, buying goods and services, and the jobs that their presence here creates.
The total impact of the defense sector is around $10 billion. When you throw in aerospace they become the second largest industry segment at nearly $15 billion.
Events begin on Sept. 29 with East County Fleet Week at Gillespie Field with static displays and food and entertainment. The official kickoff is Oct. 12 with the Marine Corps Air Show and Blue Angels. There will be many events over a two- to three-week period, with something for everyone to see.
It goes without saying the military is a major piece of our community fiber. With these outstanding men and women standing ready to sail and fly in harm's way, they help make our region America's Finest.
CREDIT:
I don't know how old Tiger Woods was when he got his first hole-in-one playing golf, but I bet he was older than Jake Paine. The Guinness Sports Record Book published in 1997 lists the youngest player to shoot a hole in as 5. Jake is 3.
With his trusty Snoopy Driver in hand, he drove a shot 66 yards on the sixth hole of the Lake Forest Golf Course here in California and it dropped in for a hole-in-one.
Jake, like his predecessor in the Guinness book, was using the Snoopy Junior Golf Set manufactured by La Jolla Club Golf Co. in Vista. Company officials point out the Junior Set is the No. 1 selling product in Junior Golf. It's no wonder with all the holes-in-one they help create. The Junior set includes a wood, iron and putter in a Snoopy golf bag.
Jake may not be the next Tiger Woods, but he was on the "Today Show" on Aug. 6 talking about this feat and Tiger has been on that show before so who knows, Jake may be on his way to the PGA.
Congrats to Vista manufacturer Steven Cade for identifying this niche of children playing golf, and making the Snoopy set here in San Diego County.