Trade Free-trade area plan hits home
Monday, April 30, 2001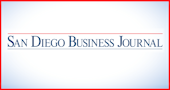 Controversial Agreement to Open Up W. Hemisphere Raises Issues Locally
Orbis Industries, Inc. pays 28 percent in duties and 21 percent in taxes on the typical cell phone it sells in Latin America.
The San Diego electronics manufacturing company does $60 million to $70 million in sales a year in Central and South America, which accounts for about 50 percent of its total annual sales.
So when managing partner Ed Richard sees the possibilities of a free-trade zone opening up practically all over the Western Hemisphere, he also sees the duties on these cell phones dropping to zero and taxes to 2 percent.
"It provides a chance for companies here in San Diego to compete more effectively with Europe and China," he said. "It's a big edge."
Opponents of these trade agreements, like Donald Cohen, political director for the San Diego-Imperial Counties Labor Council, see a big problem. He fears American jobs will be lost and working conditions and environmental standards will suffer at the hands of any new trade agreements.
And so as with every new and widening trade zone proposed, the free-trade argument rages on. On April 22, the leaders of the 34 Western Hemisphere nations who took part in the Summit of the Americas in Quebec vowed to create the Free Trade Area of the Americas , the world's largest free-trade zone stretching from the Arctic Circle to Argentina's southern tip , by 2005.
A jumbo version of NAFTA that would include all of the Western Hemisphere's nations except the non-democratic Cuba, the trade zone would essentially erase current trade borders, freeing the hemisphere into a $13 trillion market holding 800 million consumers.
Free-traders believe this economic carrot hung by trade freedom is too great not to seize and, that by trading with less-developed countries, American influences can lead to better social environments.
But opponents, like the throngs of protesters at the Quebec summit, believe the competition wrought by a massive agreement makes underdeveloped nations ripe for labor abuses and environmentally damaging practices as companies look for the cheapest way to produce goods.
The issue resonates strongly in the San Diego area, as well as along the U.S.-Mexico border.
Trade advocates like Kathy Ward, president and CEO of the San Diego World Trade Center, believe the social strife of developing nations can be altered through increased trade interaction.
"It's a proven fact that trade helps growing nations expand," she said. "We will have a vehicle to communicate opportunities to improve workers conditions and the environment. But if you're not around the table, you don't have the same opportunities."
In San Ysidro the weekend of the summit, a U.S.-Mexican coalition brought together labor groups, environmental activists and human rights groups from both sides of the border for protests against the FTAA. The events included "reality tours" of Tijuana maquiladoras.
Magali Offerman, a member of the Green Party of San Diego, attended the event, a calmer cousin to the Canadian protests. She believes the competition brought upon by the FTAA will hurt laborers and the environment.
"When companies look to produce cheaper products, they are doing so to make a bigger profit," she said. "The priority is for business to make the most money regardless of how people are going to suffer from it."
Richard, Orbis' managing partner, acknowledges the protesters' concerns and thinks they belong in the final agreement.
"It's certainly something that should and could be included in the end of the day," he said, adding, " to isolate ourselves is foolish, to embrace and improve the standard of living of our neighbors is our obligation."
Latin America is a bursting market, Richard said, and is evolving into an important international market. LH Systems, LLC, does business in virtually every country in Latin America, drawing about 10 to 12 percent of its business from the region.
"It merely solidifies the business we've already done and allows it to continue to grow on a consistent basis," said Bruce Wald, president and CEO of the Rancho Bernardo company, which develops and manufactures aerial photography systems used for mapping.
Wald said the agreement would protect the company's software from piracy through intellectual property laws, thereby protecting a large chunk of its research and development investments.
And while he said it is difficult to project how much the FTAA could directly boost business, he said it would give stability to often-unsure Latin American markets.
"Right now, it's difficult to forecast what business will be like year-to-year," Wald said. "There's got to be some amount of consistency, which justifies making continued investment and marketing in these Latin American countries."
While free-traders point to NAFTA as a free-trade success story, Cohen said the negative effects of the 1994 pact between Canada, Mexico and the United States are visible and would grow under a wider trade pact.
"You just cross the border in Tijuana and you can already see the environmental standards aren't what they are in America," he said. "What we're saying is, 'If we've decided that it's poison in America, then it's OK to poison people in Third World countries because their political apparatus hasn't caught up to ours.'"