People On The Move
Monday, April 30, 2001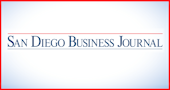 Banking and Finance
Toby Fuller has joined Bank of Coronado as San Diego regional vice president. Thomas J. Saiz has been named managing partner for Calderon Jaham & Osborn Certified Public Accountants and Consultants. Lars Ekstrom, Lisa G. Goldman and Edward W. Villeneuve have joined Goldsmith Agio Helms as managing directors. Michael L. Jeub has joined Tatum CFO Partners, LLP as CFO.
Construction and Design
McGraw/Baldwin Architects has promoted Philip Pape to senior associate and Andrew Darragh to project manager. Jon Werner has been named president of Ryland Homes' Southern California division. Design Line Interiors, Inc. has promoted Jacqueline Hacker to vice president of project management. Sundt Construction, Inc. has promoted Luke J. Ninteman to manager of special operations. Mark Andrew Schaffer has been hired as superintendent of Johnson & Jennings General Contracting. Tim Argetsinger has joined KBM Building Services, Inc. as contract manager. Stephen Johnson has joined Sully-Jones Roofing Co. as project manager.
Government and Nonprofit
The Downtown San Diego Partnership has hired Linda Boltman as director of operations. The San Diego Humane Society and SPCA has named Dr. Mark Goldstein as president. Michele L. Yeager, Paul A. Rose and Teresa M. Beck have been elected to the board of directors of Balboa Park's House of Hospitality Assoc. Coleman College has named Ken Steitz as director of distance education and Dr. James Farmer as director of education.
High-Tech and Manufacturing
PixelRocket has named Meredith Hoyle as new business development officer and Courtney Stevens as creative director. Frank Bellucci has joined JNI Corp. as vice president of business development. Graviton has named James G. Stewart as CFO. Entropia has added Mike Cox as vice president, worldwide sales and service. HNC Insurance Solutions has appointed Bill Hayes to vice president. Kforce has named Meredith Kreul a 2000 platinum award winner. PhatPipe, Inc. has appointed Kevin Rumon as vice president of network engineering. Kintera, Inc. has hired Matthew Russo as vice president, channel development and Scott Zimmer as vice president, administration and finance.
Health Care and Biotech
Quorex Pharmaceuticals, Inc. has appointed Dr. Krzysztof Appelt as senior vice president, drug development.
Hotels, Resorts and Restaurants
Hotels, Resorts and Restaurants
Homestead Village has named John Blem as regional vice president.
Media and Marketing
Tom Baker has joined Susan E. Atkins & Assoc. as senior account executive.
Miscellaneous
Christopher Spengler has been promoted to project engineer for Environmental Business Solutions. Bitterroot Restoration, Inc. has hired Dug Popovich as Southern California business development manager. Anthony DeSio, founder of Mail Boxes Etc., has been named chairman of the board of Image Arts Etc.
Real Estate
Greta Pate has joined A.W. Arendsee Real Estate as office manager. Mike Severson has been appointed assistant vice president, national sales of Chicago Title. Real Estate Temps has hired Joan LoMonico as director of business development and training. The Willis Allen Co. has hired Anastasia DiMatteo and Tiffany Torgan as sales associates. Lee & Associates Commercial Real Estate Services has added Dennis Highland as president and Lisa Stoabs as senior marketing assistant. Thomas Bullock has joined Parkloft as sales manager. .