Technology Verance makes its mark in radio
Monday, April 23, 2001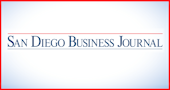 Technology: Electronic 'Watermark' Lets
Ad Buyers Know Commercials Ran
Chances are if you live in a top 100 media market, San Diego-based Verance Corp. is tuning in to the local programming.
The University City company is coming to towns all over the United States and setting up automated listening posts.
Specifically they are racks of computer equipment. Company President Bob Cerasoli equates a typical rack to a "telephone booth on steroids."
Verance is doing this in hopes of selling advertisers and ad agencies some intelligence. Verance will independently verify the advertiser's commercial was , or was not , broadcast on a faraway radio or television station.
Privately held Verance is spending about $8 million on the initiative, which it calls ConfirMedia.
The company is demonstrating ConfirMedia during this week's National Association of Broadcasters convention in Las Vegas.
The key to the technology is a digital "watermark," a coded signal placed in the soundtrack. Verance provides the free software for companies to encode their commercials.
While inaudible, the signal nevertheless changes the audio waveform in a way that can be detected by Verance equipment.
With the watermark, Verance can tell that Commercial X ran at 9:58 a.m. for 30 seconds on Station Y. Verance will then provide the data to its client in printed form or as a computer download.
Quick Turnaround
The data will be available the following day, said Cerasoli, noting that's a switch from the way he did things during his days in the advertising business. The industry has always relied on station affidavits that certain advertising has run, Cerasoli said, calling the system slow and "rather clunky."
Verance's watermark signal runs through the duration of the audio. It is robust enough to stand a switch from analog to digital equipment and back. It can also hold up if the file is encrypted or compressed.
And it holds up in the noisiest of AM radio environments, Cerasoli said.
"If somebody wants to destroy the content I.D. they have to basically destroy the content," he said.
Verance Corp. was formed in 1999 with the merger of locally based Solana Technology Development Corp. and ARIS Technologies, Inc. of Cambridge, Mass.
Venture Financing
The company closed a $25 million, Series B round of financing in February. Investors include Constellation Ventures, an affiliate of Bear Stearns Asset Management; the MMC Capital subsidiary of Marsh & McLennan Cos., Inc.; and Qualcomm Inc.
Verance also promotes its watermark technology as a way to release music digitally, yet protect copyrights and keep track of royalties owed.
The company has licensed the technology to the five major record labels, Intel Corp., Microsoft Corp. and consumer electronics manufacturers including Matsushita Electric Industrial Corp. Ltd., Sanyo Electric Co. and Sony Corp.
Verance's competitors include Broadcast Data Systems of White Plains, N.Y., and Worldtrax Media, Inc. of Clackamas, Ore.