Enterprise Mysterious name, but Z57.com's success is clear
Monday, April 23, 2001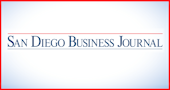 Z57.com
Founders:
Steve Weber and David Baird
Employees:
70
Revenues:
$2.5 million in 2000; estimated $5 million this year
Headquarters:
8445 Camino Santa Fe, San Diego 92121
Business:
Web design and hosting service
Having learned hard lessons with two failed Internet companies, Steve Weber knew what not to do when setting up a Web site design business.
Instead of trying to lure investors, he sought customers.
Instead of seeking market share and hits, he concentrated on turning a profit.
The business model for Z57.com might sound staid and simple, but it's one that worked well for Weber and his co-founder, David Baird.
The Miramar business launched in a cramped 400-square-foot office in December 1998, did about $2.5 million in sales and provided services to about 5,000 clients last year. This year, projected revenues will more than double.
What Z57.com does isn't that unusual. It designs and produces Web sites for small-business clients, primarily real estate and insurance agents, and maintains the sites.
Yes, it's a dot-com, but that's where the similarities between, say, a CollegeClub.com (Weber's former employer) and Z57.com end. "We started with, literally, almost nothing," Weber said. "We cash-flowed it, we own the company and we have no outside investors, nor have we ever (had any). It's all been self-funded with growth because we had to do it that way."
Weber decided to launch his own business after the company he co-founded, an Internet service provider called QuestCom, failed to "catch traction," and was purchased by a larger company.
It was at QuestCom's San Diego office that Weber met Baird, the firm's marketing manager. The two shared a propensity for hard work and a dream of growing a business in the Internet industry.
Even though neither partner was a technician, they both were well aware of the potential of the Internet and the surge of small-business owners clamoring for a presence.
Without much money (Weber took out a second mortgage on his house for seed capital), the partners figured to build the business on the free labor of college students looking for real-world learning experience, also known as internships.
"We interviewed about 125 students, we picked the six sharpest ones and we brought them on as college interns," said Weber, who at 37 is the oldest person in the firm.
When they came for the interview, some of the students were skeptical, walking into a small office with a single, $750 computer, and not much else.
"People would come in and say, where are the computers? This is supposed to be a Web design company?'" recalls Weber. "We leaned a lot on my credibility."
Just before QuestCom, Weber worked a year at CollegeClub.com, the former San Diego firm that had contemplated an $85 million IPO last year, but went bankrupt and was ultimately purchased by Boston-based Student Advantage Inc.
While CollegeClub's business-to-consumer model failed to generate much revenue or any profit, Weber said the Web site development end of the company was doing about $200,000 in sales a month before the company went under.
Before CollegeClub, Weber worked for some 14 years for Vector Marketing Corp., based in Olean, N.Y., where he built a sales organization of 2,500 sales representatives in 26 offices in the five Western states. Vector's product was high-end, $600 kitchen knife sets.
Eschewing the freewheeling and often wasteful spending of his former Internet employers, the mantra at Z57.com was sell, sell, and sell some more, then spend money.
"We outsourced everything," he said. "When we got the deals, we gave the Web site design jobs to free-lance, at-home guys."
The company started slowly, selling about four sites in the first month. Over the next few months, sales reached about $9,000 monthly, but the company was showing a profit from the get-go.
"The business models (for previous Internet companies Weber was in) were all about how to get venture capital money or to raise money somehow from investors, and then when they have all this money, go figure out what to do with it," said Baird, 25.
"But (with our business) it was very different. From the very beginning, (the goal) was, we have to make money. How do we become profitable?"
The market appeared ripe for the picking.
"At the time, there were about 20 million businesses in the country and only about 20 percent of them had a Web site," Weber said.
At first Weber assigned his college interns specific geographic areas, but that soon evolved to a more vertical marketing approach, assigning salespeople different industries.
A student whose mother was a realtor was given that sector and quickly discovered a mother lode of new business leads.
"Once we got into that market, we saw the market was hot. Realtors wanted Web sites. We got lucky," Weber said.
Very soon, all the interns were calling on real estate agents, and sales began growing exponentially. By early 2000, monthly sales were exceeding $150,000, forcing the startup to relocate from its second office of some 1,200 square feet to its current location where it now occupies some 9,000 square feet.
Ann Roy, a real estate agent in suburban Denver, said before contacting Z57.com, she tried to get a Web site from two other firms, both of which made lots of promises but didn't deliver.
"(Z57.com) showed me what I could do, and asked me what I wanted. I gave them my pictures and within two weeks, I was online," Roy said.
Roy uses her site as a supplementary sales tool, filling it with her current listings, information about the areas in which the properties are located, and biographical data on herself.
The basic site cost about $700. With three upgrades, such as adding sound and links to another multimedia site, her total investment has been about $1,600. Monthly hosting fees of $30 have been waived in recent months because she has provided leads, she said.
Nina Peterson, director of sales and marketing for Team WorksTraining, a Boulder, Colo., corporate trainer, said Z57.com did a great job in designing their firm's site.
"We're very happy," Peterson said. "We feel like they captured our uniqueness, playfulness, and give all the information about what we do."
The small company spent about $5,000 for a top-of-the-line site that has a more complex multimedia capability than the standard site chosen by most realtors.
Depending on how customized a client wants to get, Web sites can run from about $2,000 to $40,000 and beyond.
Despite all the travails surrounding many better-funded Internet companies, little startups like Z57.com can still thrive, according to several local analysts.
"The Internet is not going away and over time, it's become an important piece of any company's communication plan," said Peter Shaw of Shaw Management Advisors. "Their targeting a certain vertical segment (real estate and insurance) is a good thing because they gain a better understanding of those industries and can service them better."
Looking into the future, Weber sees his firm opening its first satellite office in North County in June and should add another 20 employees to its current staff of 70.
His goal is lofty: move from 5,000 clients to 100,000.
So, what about that name, Z57? Does it refer to a car, a radio station, a lucky number, a connection to the Heinz family?
Weber gives a sly look to his colleague Baird, and says, "We aren't saying. It's our trade secret. Even my wife doesn't know."