Electricity SDG & E; continues talks with state over buyout of power grid
Monday, April 16, 2001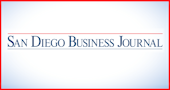 The head of San Diego Gas & Electric Co.'s parent firm says the utility will continue negotiations with state officials over purchase of its transmission lines.
Stephen Baum, chairman, president, and chief executive officer of Sempra Energy, said money from the sale could go toward paying off some of the burgeoning ratepayer debt piling up following the state's imposition of a retail rate cap on SDG & E; prices last year.
Baum's comments followed closely Pacific Gas & Electric Co.'s filing for bankruptcy last week after similar discussions with the state collapsed.
Baum made his remarks April 12 at a talk sponsored by the San Diego World Trade Center. Baum also addressed other energy-related topics at the breakfast meeting.
The energy executive said California is in crisis because there is not enough supply to meet the extensive demand in the state. The breakdown is at several levels , pipelines to bring natural gas into the state to generate electricity, generating capacity and transmission lines capacity, Baum said.
He predicted the state will experience rolling blackouts this summer and urged local business leaders to plan for the worst.
"We will be short 3,000 to 5,000 megawatts this summer, unless we all reduce energy use 20 percent. And that's very difficult to do," Baum said.
There are several possible solutions to the energy crisis. One of them is state ownership of the transmission lines that transport electricity, he said.
Baum endorsed the concept because it would allow the state to take back some of its control over its energy policy , specifically, pricing on the transmission of power. Currently state regulators have no power to regulate transmission, he said.
Southern California Edison reached a similar deal with Gov. Gray Davis to sell its transmission lines to the state for $2.76 billion.
In SDG & E;'s case, the utility will cooperate with the state as it looks to sell its own transmission lines. Part of that money would go toward paying off SDG & E;'s "balancing account," or the difference between what ratepayers are billed for the electricity and its actual cost incurred by the utility.
Ratepayers are ultimately on the hook to pay off that balancing account. Baum said as of March 31, the balancing account stood at $700 million.
Baum said there were other solutions as well. SDG & E; has long called on FERC to impose temporary and targeted price caps at the wholesale level, where prices have soared beyond the ability of the utilities to pay, Baum said.
In the long run, however, Baum said price caps are counterproductive because they are a strong disincentive for power providers to build new generation. In the short term, however, price caps would lower prices considerably, while still ensuring generators are able to make a "robust profit" providing electricity, he said.
SDG & E; has also sued FERC in court, demanding the federal government do its job in enforcing "just and reasonable" rates , something that cannot be done at the state level, Baum said.
Sempra, meanwhile, will work with the California Independent System Operator to allow advanced scheduling of blackouts and earlier notification, so business owners can anticipate which days to expect power outages, he said.
Baum said this was different from a plan proposed April 11 by the Utility Consumers' Action Network. That proposal also called for scheduled blackouts, but the difference is Sempra would be working to keep power flowing to consumers, while UCAN was calling for a consumer boycott.
The concept behind UCAN's proposal , that extended blackouts could eventually lower prices , is probably correct, Baum said. However, he doubted people would have the will to endure blackouts on a sustained basis even when there is no energy shortage.
"You'll get a Third World-like situation, when from 2-5 p.m., nobody has power," he said.
One of the best solutions, though, is conservation. Baum lauded Davis' efforts to promote conservation, including legislation the governor signed April 11.
Baum warned, however, that electricity ratepayers currently have no incentive to conserve. Since rates are capped at the retail level, energy consumers do not pay market rates for their electricity, he said.
SDG & E; customers are paying 6.5 cents a kilowatt hour for their electricity. Only when people pay its true cost , currently hovering at around 20 cents a kilowatt hour, will they buy more energy-efficient light bulbs and appliances, Baum said.
"A kilowatt hour saved is a kilowatt hour earned. It's even better, since you're not creating pollution," he said.