Carlsbad Artist Creates, and Recreates, Works of Art
Monday, April 16, 2001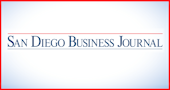 For those who like to grace their walls with original art, but find the prices a bit too pricey, Carlsbad artist Lynn Buettner has a solution.
The lifelong painter can replicate her colorful originals by transferring the images onto a canvas using sophisticated scanners, archival inks, and a special ink jet printer.
"They look very much like the originals, and it's difficult to tell the difference," Buettner said. "If they want, customers can change the color scheme or add or subtract certain elements in the painting."
Instead of originals costing between $3,000 to $15,000, the reproduced varieties sell from $175 to $3,500 with the top price going for mural-sized canvases measuring 8 feet by 3 feet.
To make the works resemble originals even more, Buettner usually retouches them with oil paint, adding texture.
While much of her art is sold to homeowners looking for something different, Buettner has been working with hotels and resorts in recent years. "At the eHotel in Downtown (which has since been sold), they bought a single painting, which I altered, and was put in all their rooms."
Buettner's art is hard to pin down, but depicts natural scenes, including underwater sea life, gardens and the wilderness. The constant is her captivating use of vibrant colors and realistic imagery.
As with most working artists, Buettner does the commercial art to survive, but her heart is in creating paintings she calls "intuitive art."
"It's about letting go of all technique," she said. "I look at a blank canvas, clear my mind and wait for the images to appear."
When she's not painting, Buettner teaches art to both adults and children, the latter through contracted arts programs in North County school districts.
"I love teaching kindergarten and younger children because I'm teaching them tools they can use for the rest of their lives. Every person can learn to draw," she said.
To get a better view of Buettner's art, check out her snazzy Web site at (www.buettnerstudios.com).