Biotech Local firm's technology used in breakthrough Alzheimer's treatment
Monday, April 16, 2001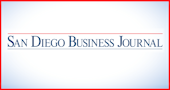 A groundbreaking gene therapy experiment performed on an Alzheimer's patient at UCSD could translate into big rewards for the San Diego gene therapy firm holding the exclusive license for the technology, an analyst said.
Last week, UCSD scientists succeeded in surgically implanting genetically modified cells into the brain of a 60-year-old unidentified woman with early-stage Alzheimer's disease.
The study, led by Dr. Mark Tuszynski, UCSD neurologist and co-founder of San Diego-based gene therapy firm Ceregene, Inc., is the first attempt to use human gene therapy to treat a disease of the nervous system.
The experiment involved implanting cells that produce nerve growth factor, a protein which stimulates the growth of nerve cells, into the region of the brain known to degenerate in Alzheimer's disease.
The primary goal of the study is to determine whether the gene therapy is safe.
Scientists also will evaluate whether the growth factor can prevent the death of some nerve cells affected by Alzheimer's disease, thus enhancing the function of the remaining brain cells, Ceregene said.
In three months, another Alzheimer's patient will undergo gene therapy treatment, a UCSD spokeswoman said. Six more patients will then be recruited for treatment.
While it's too soon to say whether the technology will work, hopes are high.
"There are no good treatments for Alzheimer's disease available," said John McCamant, editor of the Medical Technology Stock Letter in Berkeley who follows developments at Ceregene and its Foster City-based majority owner Cell Genesys Inc.
Jeffrey Ostrove, Ceregene's president and chief operating officer, said he's excited about the human trials.
"Several successful pre-clinical gene therapy studies for both Alzheimer's disease and Parkinson's disease have demonstrated the potential of Ceregene's gene therapy technologies," Ostrove said.
Still, it's far too early to celebrate.
The gene therapy sector has been riddled with failed trials and has yet to bring a product to market.
McCamant, however, said Ceregene is in an excellent position given its intellectual and fiscal backing by Cell Genesys, a leader in the gene therapy field.
Cell Genesys created Ceregene in January with $10 million in funding, and intellectual property and gene-therapy programs from Neurologic Gene Therapeutics, a virtual San Diego-based company founded earlier by UCSD scientists Tuszynski, Armin Blesch and Jeffrey Kordower. Cell Genesys has a 60 percent stake in Ceregene. Founders and private investors own the remaining 40 percent.
Tuszynski raised about $1 million from private investors and UCSD to fund the Phase I safety trial.
The neurologist, however, is not involved in patient recruitment or in the analysis of data, Ostrove stressed.
UCSD, which also has an undisclosed stake in Ceregene, is in charge of recruiting patients. But McCamant finds UCSD's affiliation with the company and simultaneous involvement in patient recruitment does not pose a conflict of interest.
"I don't think it matters," McCamant said. "There is nothing to fudge here (referring to the analysis of data from the patient study)."
As Ceregene matures, individual interests will diminish and later stage trials would be conducted independently at multiple sites anyhow, he added.
Before that happens the Alzheimer's study will need to prove the gene therapy is safe.
Ostrove estimated that data won't be available until the end of 2002.
McCamant said safety trials involving gene therapy tend to be longer, because scientists need to track the gene and study its expression patterns. Once a gene is altered and implanted in the human body, it's difficult to turn it off.
Only if the therapy proves to be safe will Ceregene be able to apply to the Food and Drug Administration for larger studies.
Meanwhile, Ostrove , who is the only employee at Ceregene thus far , plans to hire between 15 and 20 employees this year.
That is mostly scientists to move ahead the firm's gene therapy pipeline, which focuses on Alzheimer's and Parkinson's disease.
In 2002, Ostrove hopes to get approval from the Food and Drug Administration to test in humans a gene therapy for Parkinson's disease developed by Kordower.
McCamant said Ceregene will be on solid ground even if the Alzheimer's therapy proves unsafe, McCamant said.
Ceregene has Cell Genesys' broad gene therapy program, including vaccines in multiple types of cancers, and financial clout to fall back on, he said.
By the end of 2000, Cell Genesys reported $260 million cash, cash equivalents and short-term investments.
Tuszynski, who serves on Ceregene's board of directors and scientific advisory board, was not available for comment.