People On The Move
Monday, April 9, 2001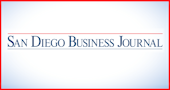 Banking and Finance
San Diego National Bank has promoted Fulberto Rodriguez to vice president and branch manager, Joan St. Clair to vice president and branch manager, Darlene Mera to vice president of business development, Eric Larson to the senior management team and David Osburn to vice president of commercial lending.Wells Fargo & Co. has named Chuck Lemoine as vice president of public relations and community development of its Southern California community bank. 1st Pacific Bank of California, Oceanside branch has appointed Mike McDenned as senior vice president.
Construction and Design
Jacques Passerat Lord has been appointed manager of the environmental department for Kleinfelder Inc. James B. O'Dell has joined Pacific Interior Systems as project superintendent. Sundt Construction, Inc. announced that David Jesme has been named vice president of operations for Sundt Construction. Earl Walls Associates has promoted John Martin to principal and director of engineering, Ned Michalowski to principal and Charles Cassell to associate principal. Stephen Hoffmann has been hired as general manager for NRG Energy Center, San Diego.
Government and Nonprofit
The California Arts Council has chosen Kay Wagner, executive director of the San Diego Children's Museum, as one of 2001's "Outstanding Arts Educators." After 13 years at the helm of LEAD San Diego, Inc., Yvonne Murchison has announced her retirement. Augustine Gallego has been selected chair for San Diego Dialogue. The Child Abuse Prevention Foundations & Polinsky Children's Center Foundation has named Everett Bobbitt and Sandy Arsham to its board of directors and Deirdre Kleske as interim executive director.
High-Tech and Manufacturing
PixelRocket has named Courtney Stevens as creative director. Gary I. Washam has been named director of operations for Cubic Defense Systems. Ensemble Communications Inc. has appointed Bill Sweeney as vice president of North America sales. Gillian Ackland has been named vice president, contracts and administration for High Technology Solutions. Ameranth Wireless has appointed Vern Yates to its board of directors. Christopher Calisi has been named president and chief executive officer for Overland Data. John Markovich has joined Relera as vice president and chief financial officer. RC Networks, Inc. has added Michelle Hays as vice president of finance and chief financial officer, D. Colin Boyd as senior vice president of worldwide sales and marketing, and promoted Jennifer Miller to vice president, human resources. Packetlight Networks has hired James Chitkowski as vice president of sales. Akhilesh Maewal has joined Epic Cycle's Technology as director of technology.
Health Care and Biotech
Health Care Communicators has elected its 2001 board of directors: Katherine Curriden as vice president, Kristin Harms as secretary, Leslie Safford as regional marketing specialist, Johanna Blevins as communications coordinator, Cece Wilkens as newsletter editor and Leslie Franz as publicity chair. Axion Biotechnologies Inc. has appointed Michael Kozlowski, Ph.D. as chief operating officer, Damien Dunnington, Ph.D. as vice president of discovery research and Steven Brown, Ph.D. as director of molecular pharmacology. Mich Hein, Ph.D. and Jerry McGhee, Ph.D. have joined the scientific advisory board of ZyGam Inc.
Insurance
Matthew Horsely has been named regional vice president for Mutual of America.
Law
Robert Richley and Raymond Liddy have joined Duckor Spradling & Metzger as associate attorneys. Steven G. Rowles has joined Brobeck, Phleger & Harrison as a partner.
Media and Marketing
Francine Crocker has been named senior vice president of advertising for Bailey/Gardiner Inc. Matthews/mark has hired Dana Neibert as senior art director and Kristine Smith as an account executive and promoted Jon Dupuis to account executive and John Risser to senior copywriter. Susan Blessinger has joined A Graphic Edge Sign Co. as client services representative and graphic designer.
Miscellaneous
TruGreen LandCare has named Tom Smith as region manager. Claudia Mazanec has joined Navica Partners LLC as an associate and senior level executive coach.
Real Estate
Martha Guy has joined Newland Communities as vice president. Jeffrey Morris has been named vice president for Trammell Crow Co. Evanco Realty Advisors, Inc. has promoted Karen Hitchcock to vice president of property management.