Enterprise Spice of life makes for 'extraordinary' dessert experience
Monday, April 9, 2001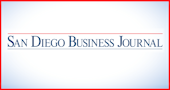 Business:
Bakery, caf & #233;, gourmet and home product lines
Employees:
35
Founded:
1989
Sales in 2000:
$1 million
It's a bustling Friday afternoon at Hillcrest bakery and caf & #233; Extraordinary Desserts. As owner Karen Krasne takes a break to talk shop, elaborate, flower-adorned confections are being served.
No plate is filling faster than Krasne's, though, and it's not with the daisy-topped chocolate pistachio biscotti, the rose-petaled apple bread pudding, or any of the other desserts her staff has created in the site's 600-square-foot kitchen.
A French-trained pastry chef and local entrepreneur, Krasne has become the essence of the Extraordinary brand. And it's an expanding one.
Her name, which has long been on the bakery's formal title, is also on Krasne's new lines of gourmet products and home items. Called respectively Karen Krasne's Extraordinary Gourmet and Karen Krasne's Extraordinary Home, they are an extension of their namesake's evolving interests in business and in life.
Personal Touch
An ultra-personal connection to work is nothing new for Krasne, 41. It's been that way since her college days at the University of Hawaii in Honolulu, where a series of overlapping jobs included art galleries, floral shops, high-end boutiques and a caf & #233; that specialized in baked goods. The latter was owned and run by a woman who had been trained in France on making pastries.
The idea appealed to Krasne, who was in her early 20s at the time. A nutrition sciences major, she was fluent in Spanish and had already chosen French for her minor. She knew she wanted to travel.
Creating desserts was also familiar to her. Growing up in the San Diego suburb of Del Cerro, her mother baked every week.
Krasne made her first dessert at "age 10 or 12," when she prepared apple dumplings for her grandfather. "They were so good," she recalled. "They were amazing."
Taking a break from college classes and jobs, Krasne spent six months traveling in France and Europe. She then returned to complete her degree.
Krasne doesn't recall the exact moment she decided to move to France and study pastry. She does remember the factors that went into the choice. In particular, her studies were steered toward higher education and then a job as a dietician, which would in turn end up in a clinical setting or a spa.
"I was pretty avant garde," Krasne said. She wanted something that was more creative.
After some time earning and saving money, she headed to Paris, where she studied pastry at the renowned cooking school Cordon Bleu and other schools. She also served an apprenticeship while in France.
Education Abroad
After completing her studies at age 26, Krasne took jobs creating desserts in various countries, wanting to travel and enhance her r & #233;sum & #233;. Some of her stops were Malta, Hungary, Austria, Italy and Cancun, Mexico.
In between, Krasne worked in San Diego creating desserts for private events.
She kept a promise to herself that when she was 28, she would return to her hometown and start a more serious venture.
She founded Extraordinary Desserts in 1989 in what had been a hair salon. Krasne's father had been buying closed restaurants and selling the kitchen equipment, so he set aside baking equipment for her.
Her start-up costs were $30,000, she recalled.
That first day, she had a total of 10 plastic chairs set up for on-site dining.
Business took off about six months later, when a critic from the then-San Diego Union gave her a rave review. She remembers coming to the door the next day, not realizing the review had come out, and seeing a line stretched out of her shop.
From the start, she charged more for the cake slices and other desserts than similar bakeries and caf & #233;s. A piece of cake can be $7.95. The prices were within what upscale restaurants charged, minus a couple dollars for not having a wait staff, she said.
Counter Display
She continues to have customers order from a counter where the desserts are displayed.
Now, after a couple of renovations, the shop seats 110. The current chairs are, not surprisingly, imported from France.
The French influence had continued throughout the years. In fact, Krasne's heading to France next month for four days of classes. "The latest in pies and tarts, and those kinds of doughs," she said. It's been her focus for five years, she said.
"I cycle around," she noted. "It's always evolving for me, perhaps with my clientele and what's going on in the United States in terms of pastries."
The current movement is toward "retro" desserts such as cobblers, crumbles and pies, she said.
At Extraordinary Desserts, Krasne bakes American classics in a French style. Her 17-person kitchen staff is organized into teams, and each morning the different groups have recipes to prepare.
After baking or creating the different desserts, the staff decorates them with flowers bought from local wholesalers. She spends about $1,500 a week, Krasne said.
Trademark Flowers
The use of flowers, inspired by her years in Hawaii, has become Krasne's trademark.
The quality of the desserts and the experience has long been popular among local diners, said David Nelson, editor of the Zagat Survey's San Diego restaurant guide. The annual guide polls 1,000 San Diegans.
Nelson, who is also the restaurant critic for San Diego Magazine and Westways, said although Extraordinary Desserts isn't even technically a restaurant, it's among the highest-ranked establishments in his survey.
"It has immense popularity, and the comments that are made by the respondents of the survey are always very, very enthusiastic," he said. "It's regarded as the best place of its type, I'm sure."
Extraordinary Desserts had sales of more than $1 million last year.
Along with the caf & #233;, Krasne's desserts are served at 10 local restaurants.
More than two years ago, Krasne began to set up her food and home product lines. During her travels, she was picking up jars of similar items, such as honeys and jams.
After researching what she would put in a line of her own, she dealt with issues such as nutrition guidelines and finding the right bottles and packaging.
She learned from looking at other lines, and calling the companies listed on the labels.
The line, which cost $15,000 to start, is produced out of four kitchens, including Krasne's. The contracted cooks are in Maui, Sonoma and Santa Barbara.
Delayed Selling Products
Although she first planned to officially sell the lines in time for the holidays, Krasne held off until January. Both product lines are housed under Extraordinary Desserts.
Her home line consists of candle holders and other items produced in Europe. She sells them alongside other companies' products in her shop.
In January, she was in Sydney, Australia, then New York City, with trips to San Francisco and Los Angeles since then.
After the classes in France, Krasne's future outings include Seattle, Amsterdam and Belgium.
These short trips have taken on multiple purposes, affecting Krasne's menu, her product lines, even the atmosphere in her shop.
It can be more personal than that, she noted. Her interest in yoga, for instance, brought Asian influences, even the music played at the caf & #233;, into her businesses.
A yearning for calm makes sense for Krasne. People often say her energy makes her seem as if she has a hamster running a non-stop wheel in her head, she said.
Krasne, who has a San Francisco-based business manager, spends many of her administrative hours on the phone. The tasks include orders for wedding cakes, media relations and marketing, details for her product lines and dealing with the bakery equipment.
But she sets aside several hours each day to be in the kitchen. Recently, she created an ice cream of vanilla, balsamic vinegar and pepper.
"I need a certain amount of mania," Krasne said, adding quickly and emphatically, "I like organized mania."
An employee profit-sharing system she set up in October has proven successful, she said.
"It's like, set the intent and you'll get it," she said. "It's been like that for me set what you want, do it and it'll be profitable."
She's considering ways to take her product lines nationally, perhaps through a mail order service.
Opening other Extraordinary Dessert outlets isn't in her plan, but Krasne's vision of the caf & #233;'s future could include a larger site with more kitchen space. She has ideas for a wine bar and an area in which to sell exotic furniture.
Exotic and very likely extraordinary. Krasne remembers talking about the name of her business over dinner parties and similar occasions. She recalled thinking it would be a lot to live up to.
"It seemed like a strong statement," she said.
According to Nelson's first comment when asked about Extraordinary Desserts, there's no need to worry.
"The name is truth in advertising," he said.