Technology---L-3 Communications gets wired up to fight the local worker attrition rate
Monday, October 30, 2000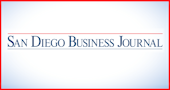 A flat market for a product line might be reason enough for Frank Lanza to keep an eye on San Diego. But the New York City-based executive has an extra concern here.
In San Diego, he said, you might consider a 20 percent employee attrition rate low , and a sign you are doing a good job.
Lanza, chairman and CEO of New York City-based L-3 Communications, Inc., said he is trying to address both concerns at his company's San Diego-based telemetry group. He made his comments here last week prior to addressing a gathering from the electronics industry.
The niche convention Lanza attended dealt with telemetry instruments, devices that measure flight data and similar data from afar. One example would be tracking a missile's flight from the ground.
It is an area ripe for consolidation in the next two years, Lanza said. The annual market is $350 million , "that's not a great big market" , and there are many companies going for that work, he said. Some 165 companies alone were represented at the San Diego convention.
While flat, the market for such instrumentation may "kick up" by 2002, Lanza said. He predicted more space launches , mainly for telecommunications satellites , and an increase in missile projects.
That is on top of whatever decision the incoming administration makes regarding a national missile defense program, he said. All told, that will probably translate to more people in L-3's San Diego operation, he said.
San Diego is home to roughly 500 L-3 em-ployees who work in its telemetry and instrumentation group. That segment brings in roughly 12 percent of L-3's annual sales, or $250 million.
Overall, the company employs roughly 10,000 people and supplies products in several other sectors, including wireless communications and avionics. It sells to the federal government, aerospace prime contractors and commercial telecommunications companies.
The San Diego operation does a good job and L-3 plans to stay here, Lanza said.
"They do well. They make good money. It's not their fault that it's a flat marketplace. They didn't create the marketplace."
Goals for the operation are to hang on to current work and apply that to other markets, he said, adding new products could be ready by the end of 2001.
The retention problem in San Diego, he added, is worse than in Silicon Valley. "It's not a fun picture right now," he said.
In an environment where employees are getting offers to work for dot-com and telecommunications companies, he said, a 15-20 percent attrition rate is a good sign, while a 30 percent attrition rate points to trouble.
"There's no way you can compete with IPOs, new starts that offer paper equity and big, short-term salaries," Lanza said. It's a lure for young people , and a lure he himself felt in his younger days, he said.
The company is trying to take corrective action by changing benefits, he said, as well as other things pertaining to management and communications which he did not specify.