People On The Move
Monday, October 23, 2000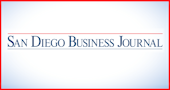 Banking and Finance
Timothy G. Malott, a partner at Shoreline Partners, LLC, has been elected president of the Association for Corporate Growth/San Diego. Rancho Santa Fe has hired Lucinda Sanchez as first vice president/regional manager and Richard B. Hudson III as assistant vice president of corporate banking development. Colette McLoughlin has been appointed assistant vice president/loan officer for Neighborhood National Bank. Heller Financial Franchise Finance Unit has named Edgar A. Murcia as senior vice president and business unit manager. Ernst & Young has promoted Robert Bruning and Daniel Kleeburg to partner in its San Diego office. Fallbrook National Bank has added Michael Patterson to its senior management team.
Construction and Design
Brian K. Laidlaw has been named senior vice president. Roel Construction has promoted Brent Hughes to project manager and Sean McCormack to assistant project manager. Charlene D. Bates has been promoted to director of new-home sales for Ryland Homes' Southern California division. Richmond American Homes has promoted Kimberly M. Pebbles to vice president of marketing. Wermers Multi-Family Corp. has hired David Leyse as superintendent. Jerry A. Marcis has been appointed to project manager for Turner Construction Co. T.J. Adkins has been hired as director of sales and design for West Coast Aquarium Industries (WCAI). Austin Veum Robbins Parshalle has hired Eduardo Savigliano as senior architect, Stephen Patrick as senior project coordinator, Eric Geipel as project architect, Michael Stephen Engel as project architect, David M. Madigan as project architect and David Salud as project manager. Austin Veum Robbins Parshalle has promoted Ralph S. Linder to associate principal, David Stellar to associate/architect and Zane Ely and Dawn K. Peyton to associates. Diane Eggleston has been promoted to marketing manager for Gafcon, Inc.
Government and Nonprofit
Michael S. Moore and Heidi M. Hurd have joined USD's School of Law where they plan to start a national institute on law and philosophy. The Centre City Development Corp. (CCDC) board of directors has elected George Lattimer, chairman, Doug Austin, vice-chairman, Julie Dillon, treasurer, and Ed Bacani, secretary.
Health Care and Biotech
IDEC Pharmaceuticals has promoted Phillip M. Schneider and Connie L. Matsui to senior vice presidents. Tazdin Esmail has been named to Genetronics Biomedical Ltd.'s board of directors. Microislet, Inc. has appointed Haro Hartounian, Ph.D., to its board of directors.
High-Tech and Manufacturing
The National Dispatch Center, Inc. has appointed Brian Zimmerman as vice president, technology. Richard Search has joined Dot Hill Systems Corp. as senior vice president of marketing and product management. CompUSA, Inc. has promoted Jeff Hearn to area sales manager/federal and corporate sales. Debbie Simmons, vice president of Leap Wireless International, Inc., has been honored as an "Engineering Woman of Wireless" by Wireless Week. Tierra Telecom has appointed Neil Lichtman as president. Qualcomm, Inc. has promoted Gary W. Garland to vice president and general manager of digital media and Louis Lupin to general counsel. Gerald R. Dinkel has been named a corporate vice president of Cubic Corp. Sempra Energy Solutions has named Leah Bissonette as vice president of U.S. regional sales. APOLLO Consumer Products has promoted Harminder Dhani to general manager and Ed McCarthy to director of operations. Dennis Berman has been named vice president of corporate development at Kintera, Inc. Richard Jaffe has been elected to the COM2001.com board of directors.
Hotels, Resorts and Restaurants
Michael Brau has been named president of The WineSellar Group. Bernie Sweeney has been named director of sales at the Hilton, San Diego Mission Valley Hotel. Allen Berta has been named general manager of Hotel La Jolla.


Law
Brobeck, Phleger & Harrison LLP has hired Frank Ubell as counsel, Drew Granston, Alma P. Levy and Richard Pagliery as associates, Todd Nielson to its real estate group and Lucinda Y. Quan to its business and technology group.
Media and Marketing
Joel Mayne has joined Catellus Development Corp. as vice president of leasing and development. Ryan Kaback has joined Custom Logos as advertising specialties product manager. Ken Potashner has joined cVideo, Inc. board of directors. ThinkTank Advertising has added Leigh Cunningham as public relations director and account manager.
Real Estate
Ingrid Siikov-Combs has been named director of sales for Park Laurel. Bradford Perry has joined Burnham Real Estate Services as vice president and team leader. Ellen Hayes, with One Source Realty GMAC, has been awarded the Real Estate Innovator (REI) by Realty Publishing. Equity Office Properties Trust has appointed Bess Wakeman as leasing director.