Editorial---A salute with a little more snap
Monday, October 23, 2000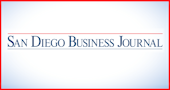 We often go weeks or months at a time without giving much thought to San Diego's military presence.
The past couple weeks, however, gave us all good reason to pause and consider the ample contributions the men and women of our armed services make not only to San Diego, but to our nation and the world.
The recently concluded Fleet Week activities here gave us cause to celebrate all that is right and good about the Navy and Marine Corps' presence in San Diego. From the high-flying Blue Angels to Navy SEALs rappelling from helicopters to the parade of ships through our bay, we had every reason to puff up our chests, suck in our guts and be damned proud of the mightiest military the world has ever known.
At the same time, we also couldn't help but watch these activities and know that the men and women before us live in great peril on a daily basis. As proud as we are, we also bowed our heads to ponder the diabolical mysteries of terrorism, how it immediately turned our celebration into something of a memorial for the tragedy aboard the USS Cole. Indeed, a collective prayer went out to the families and friends of those killed in the terrorist bombing of the ship, which had stopped for refueling in Yemen while heading to the Middle East.
The angst we are experiencing over tensions in the Middle East also serves as a sobering reminder that military personnel in San Diego can be in the midst of a war zone in a moment's notice. We have seen it several times in recent years, from Kosovo to Somalia to Desert Storm.
While the 2000 edition of Fleet Week carries a little more meaning than years past, we cannot look past the economic and philanthropic contributions the military makes daily in San Diego. Deservedly, events like the bombing of the USS Cole and Middle East tensions grab the headlines. And as much as these people are heroes in the line of duty, they're also heroes on the homefront.