Real Estate---Downtown ballpark hotel project under way
Monday, October 16, 2000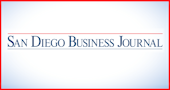 Crews from San Diego-based Swinerton & Walberg are digging the foundation for the 34-story Westin Park Place Hotel and Condominiums on Harbor Drive next to the stalled Padres ballpark, a company official said.
The 512-room hotel will have 36 condominiums on the top 11 floors, said Christine Pappas, a spokeswoman for the contractor.
The facility is being built for JMI Realty Inc. of San Diego.
The project's hotel will contain a six-story banquet and convention wing with more than 20,000 square feet of conference space and a business center, she said.
Meanwhile, crews from R.G. Petty Construction of San Diego are working on two concrete tilt-up buildings in H.G. Fenton Co.'s Mission Valley Heights business park near Interstate 15 and Friars Road.
One building is a single-story 12,000-square-foot office-flex structure, and the other is a two-story, 22,000-square-foot office. Both are concrete tilt-ups with glass shear walls, said David Paul, a spokesman for H.G. Fenton.
T.B. Penick General Construction Co. of San Diego finished up late last month on a 36,000-square-foot remodeling of a supermarket building at 1831 Mission Ave. in Oceanside. The building was converted for use by MiraCosta College and included seismic retrofitting with structural steel to beef up the original concrete masonry walls, said Lawrence Rutsch, a principal of L.R. Design of Oceanside, the project architect.
A new fa & #231;ade and large skylight were installed on the building, which now has 28,000 square feet of classroom and computer lab space and 8,000 square feet of space in a second building for science and computer labs.
Linda Lee served as project director for the college. Terry Hunt was the project manager for T.B. Penick.
Roel Construction Co. of San Diego has finished framing a California ranch-style building at Lost Canyons Golf Club in Simi Valley. Jacquie Johnston, a spokeswoman for the contractor, said the $5 million project is due to be completed early next month.
When finished, the facility will feature an 11,000-square-foot clubhouse, 10,000-square-foot golf cart barn, and an 8,000-square-foot maintenance barn, she said. In the clubhouse will be a banquet facility, locker rooms and golf shop.
Carlsbad-based Consolidated Fire Inc. was a subcontractor on the project, she said.
Bycor General Contractors Inc. of San Diego is working on 45,000 square feet of retail space improvements for Vestar Development Co. of Scottsdale, Ariz., at the developer's shopping center in the 2800 block of Jamacha Road in El Cajon.
The $2.6 million project was designed by Mario Perez of James Leary Architecture & Planning of San Diego, said Scott Kaatz, Bycor's CEO.
Office supply, mattress and art supply stores will occupy the completed space, he said. Bycor also finished a 5,777-square-foot bank building for Chesnut Properties of San Diego. Augustine Miller Design Studio's Amy Fowers designed the facility. It houses Sunrise Bank's first San Diego office, Kaatz said.
Bilbro Construction Co. of San Diego finished up 20,000 square feet of tenant improvements for WebSideStory in the Seaview Corporate Centre, 10180 Telesis Court in Sorrento Mesa, said Rob Bilbro of the construction company.
Kirt Gillimand of San Diego-based Irving Hughes Group provided construction management for the tenant.
Ralph Linder and Terri Brunner of Austin Veum Robbins Parschalle of San Diego did the architectural design. Poway-based Neal Electric and Brian Cox Mechanical also worked on the project.