Upgraded E-Mail System Monitors Spicy Messages
Monday, October 9, 2000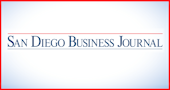 Eudora 5.0, long regarded as the premier E-mail software system and a product of San Diego's Qualcomm Inc., has a few features that are creating a buzz in the Internet world.
Among several new features on the latest version released last month is a "flame monitor," and an automatic file-sharing and updating capability.
While Eudora execs are excited about the latter, it's the former feature, called MoodWatch, which is garnering the most interest, says Jeremy James, director of marketing for Eudora Products.
With Eudora 5.0, users can figure out whether a particular E-mail they received contains offensive words or phrases. The system automatically reads the message, analyzes its content, and assigns a "heat rating" of one, two, or three chile peppers, going from mild to very hot.
In addition to figuring out whether they are about to be "flamed," MoodWatch also analyzes the content of messages the user is transmitting, assigning the same chiles to what the user is composing.
The feature has become a hit among workers who use PCs, and regularly deal with reading unwanted, unpleasant, and sometimes downright nasty E-mail. But it's also a kick to see it work, James said.
"We recognize there's a fun factor but there's a serious intent as well. It gives users who want the tool the ability to be more aware of how their messages are coming across," he said.
MoodWatch does its language analysis by comparing words to a set of special dictionaries developed by a Carnegie Mellon English professor.
"The dictionaries contain about 2.7 million words and phrases that have been compressed down to 300 kilobytes," James said.
The assigned chiles don't necessarily depend upon a single word or phrase, James said. Both the message's context and the preponderance of the message are analyzed. For example, the phrase, "You make me want to puke," got a three-chile rating by itself.
But if that was the only negative phrase in a longer E-mail, the chile rating would likely be fewer chiles, James said.
Eudora Sharing Protocol (ESP), another feature on the newest version, allows a group of users to share documents and make changes to the same without having to send out separate E-mails to each member of the group.
By setting up a separate folder on each user's hard drive, any changes by one user to a document can be automatically transferred and saved on a mirror folder contained on the hard drives of all the group's members.
ESP offers a wide variety of notification and distribution options that give users control of when and how they can send and receive files.
Eudora was actually first developed by Steve Dorner, a former computer labs staffer at the University of Illinois, who now works as a Eudora vice president. Qualcomm purchased the licensing rights and began offering it as a product in 1992.
Eudora 5.0 can operate on a PC in three modes: a free version that contains ads; a paid version that costs $39.95 with rebate; and a light version that's also free, and without ads, but contains fewer features like MoodWatch.