Technology---Local Kyocera exec steps down
Monday, October 2, 2000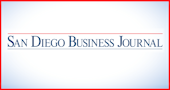 High-Tech: Bob Whisler, a 19-Year Veteran of the Company, Takes Reins
David Grooms, the president of two Kyocera Corp. entities in Kearny Mesa and Tijuana, resigned his position last week, triggering the promotion of longtime Kyocera executive Bob Whisler.
Jay Scovie, spokesman for Kyocera International Inc., the holding company for both Kyocera America and Kyocera Mexicana, SA de CV, which Grooms headed, said his departure was amicable.
"David's leaving on good terms," Scovie said. "From a company's standpoint, he's been a strong contributor, and he'll be a contributor wherever he goes."
Grooms, 49, was named as president of Kyocera America in 1995. He joined the company in 1980 as a sales engineer. Efforts to reach him were unsuccessful.
Kyocera America designs, manufactures and assembles ceramic packages, the encasing devices that hold semiconductor chips. The packages are used in the manufacture of many products in the telecommunications, mobile and satellite communications, and other industries.
Whisler, 47, said his appointment as Grooms' successor came as a surprise.
A 19-year veteran of the company, Whisler began as a sales engineer, helping customers in the design of the right type of product. His longtime goal was getting the top sales job, which he achieved in 1996.
Since then he worked closely alongside Grooms as the director of sales and marketing for Kyocera America.
Whisler said he plans no changes in the company's direction that Grooms put in place.
While the company doesn't break out revenues, business has been very good in recent years coinciding with an explosion of manufacturing products for the telecommunications and Internet industries.
For its most recent fiscal year ended March 31, Kyocera Corp. based in Kyoto reported net profit of $489 million on sales of $7.9 billion.
Kyocera may expand its operations in Tijuana but will likely keep the head count at its Balboa Avenue plant at its present 850. It now has 1,000 workers at its Tijuana maquiladora.