Media---Downtown News survives the rush to publish
Monday, October 2, 2000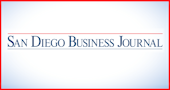 U-T Reports Minute Revenues
From Licensing
This summer was a whirlwind of a season for three Downtown publications.
The only one left standing is Downtown News, which was started three months ago by San Diego Community Newspaper Group.
David Mannis, who owns and publishes the paper and five others with his wife, Julie, confirmed he struck a deal last week to buy a competitor, the recently merged D-Town 92101. At press time, the transaction was expected to close within days.
Both Larry Duthie, co-owner of D-Town 92101, and Mannis wouldn't reveal financial details of the agreement between the privately owned companies.
Mannis did say he's buying D-Town's name and assets, mainly its advertiser list.
It closes an interesting couple of months for the Downtown publications. When the summer began, D-Town was already an established monthly that covered development, entertainment and other topics.
In mid-June, Mannis' group launched Downtown News, a bi-monthly.
Duthie was already planning to launch 92101, when D-Town became available. Duthie's Magicstone Media LLC bought the publication's trademark. On Aug. 7, Duthie published the first issue of the merged D-Town 92101, he said.
About two weeks ago, Duthie and Mannis began discussing Duthie selling his paper's assets to Mannis.
Downtown News marks the second time that Mannis has entered that market. Seven or eight years ago, he relaunched Downtown paper San Diego Independent. The paper, which covered the Uptown area, including Mission Hills and Hillcrest, closed within a year, Mannis said.
He's changed his strategy this time, focusing more on the Downtown market, Mannis said.
- - -
Profit Margins: In a previous interview about the San Diego Union-Tribune's electronic rights conflict with its free-lance writers, paper executive Harold Fuson would not disclose the private company's revenues from licensing its archives to databases and services such as Lexis-Nexis.
However, Fuson, vice president and chief legal officer for The Copley Press Inc., recently shed some additional light on the topic. Revenues from licensing total less than a tenth of 1 percent of the company's revenues, he said.
Late last summer, the Union-Tribune began requiring its free-lancers to sign a contract that in part gives the paper non-exclusive electronic rights to the writers' work. That way, when the paper licenses out its archives to various services, it has the right to license the free-lancers' work along with the rest of the editorial content.
Signings: Locally based Big Bang Idea Engineering will be creating a consumer and trade branding campaign for Qualcomm Inc.'s E-mail software program Eudora. Expect the campaign, which will launch this winter, to focus on Eudora as a unique, uncluttered advertising environment. The McRae Agency, based Downtown, signed Solatube International. McRae will handle national commercial and online PR for Vista-based Solatube. Local firm Southwest Strategies LLC was hired by Computer Sciences Corp. to create a marketing program.
- - -
Sound Bites: Alberto Pando recently signed a five-year contract to be the vice president/news at local Fox station XETV. Pando, who joined the station last fall, launched the station's 10 p.m. newscast in December. Last month, he launched the station's three-hour morning program and its midday newscast. Biotech-focused firm IRPR Strategies recently changed its name to Susan E. Atkins & Associates. The agency, founded in January 1999, expects to break the $1 million mark in revenues by the end of 2000. Since partner Mike McDowell left to become president of San Diego Hotel Reservations, Dave Davis has renamed his advertising agency Hotel Marketing Group. Davis has also brought in Bo Landress as a partner and vice president. Landress was previously director of sales at Mission Bay hotel San Diego Paradise Point Resort. Bazaar del Mundo and Mission Valley-based private foster care company Walden Family Services were recently signed for the October installment of ShopAround LLC's infomercial show, said executive producer Ronnie Loaiza.
The deadline for the next Media & Marketing column is Oct. 5. Rodrigues can be reached at (858) 277-6359, Ext. 107, or via E-mail at trodrigues@sdbj.com.