Technology---New economy dot-com offers old economy toss-offs
Monday, November 27, 2000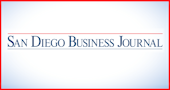 It's a place where the old American economy of heavy, industrial equipment meets the new economy of E-commerce.
But executives at the Online Asset Exchange find they can't dispense with tradition. At least not yet.
The year-old San Diego company pairs up buyers and sellers of used industrial equipment , like printing presses and machine shop furnishings , over the Internet. But it is also turning to an older way of spreading the word about its services: the paper catalog.
President Frank Berlage said the 200-page catalog, due out soon, will be an important marketing tool sitting in someone's office.
For a more exact inventory of the 200,000 assets on the exchange, a person can turn to the company's Web site (www.onlineassetexchange.com).
The catalog is one of several techniques the company is using to build awareness of the dot-com, including a sales force, E-mail, direct mail and "fax blasts." The company is testing TV ads in "selected industrial cities," Berlage said.
In another sign of entrenched tradition, Berlage estimated that for now, 40 percent of Online Asset Exchange transactions need the human touch, someone in a customer service center. That number will dwindle, he predicted.
Berlage is counting on the Internet to improve the efficiency of selling heavy assets, which is frequently a localized process that involves middlemen.
The company estimates worldwide, the annual market in used assets is $1 trillion.
Used Equipment
Used assets on the Web site include heavy equipment for electronic assembly, construction, agriculture, aviation, power generation and chemical and food processing, as well as medical equipment.
The site has featured a potato chip factory. It now lists a 1926 Pullman railroad car for $1.7 million.
The Online Asset Exchange is working on $25 million of second-round funding from Nomura Securities International PLC, Sigma Partners, Jafco American Ventures, Athena Technology Ventures and Delphi Ventures. That funding, announced in June, was on top of a $15.6 million initial round.
The company is planning to go public, Berlage said.
Berlage said the company handled $6 million in requests for quotations in March, and the number has doubled every month since then. He declined to give revenues.
122 Employees
The Online Asset Exchange has 122 employees and can provide ancillary services including appraisal, shipping, rigging, finance , even replacements for missing equipment manuals. A warranty program is in the works, Berlage said.
For sellers, the company offers help with capital gains tax deferments. To better serve Latin America, the dot-com plans to translate its Web site into Spanish in the next six months.
Former Chrysler chairman and CEO Lee Iacocca serves on the Online Asset Exchange board and has appeared in its print advertising.
Several other companies operate used-It's a place where the old American economy of heavy, industrial equipment meets the new economy of E-commerce.
Several other companies operate used- equipment markets online, though Berlage said his company has "critical mass," with 10 times the product as its nearest competitor.
One competitor is ZoneTrader.com of Minneapolis, which has a strategic partnership with a San Diego maker of asset management software, Peregrine Systems.
A similar online exchange, Equipp.com of San Diego, went out of business in June when it was unable to get additional venture capital.