Technology---Firms help in getting new 'nondotcom' domains
Monday, November 27, 2000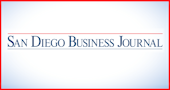 So who gets sandiego.biz?
Internet addresses with the dot-biz suffix could arrive as soon as 2001, along with six more alternatives to dot-com and dot-org.
With that news, inquiries about getting the new Web monikers are already floating in, said Ivan Vachovsky, CEO of Abacus America Inc. of University City. The Internet name registration service does business as Names4ever.com.
The Internet Corporation for Assigned Names and Numbers (ICANN) announced plans earlier this month to negotiate with seven entities to administer the seven new suffixes, or top-level domain names. The other six will be dot-aero, dot-coop, dot-info, dot-museum, dot-name and dot-pro. Pending final approvals, the names could be in use by the middle of next year.
While the names are not yet available and the process for getting them is still murky, Vachovsky wants to give customers as much of a head start as he can.
Last week he said he was considering a new service where his company will "stand in line" for people who would like a name with one of the new suffixes. He said the fee will be $10, and will guarantee nothing.
Guarantees are something the Federal Trade Commission is warning against. The FTC has come out with an alert about aggressive salespeople charging a fee and guarantying customers their choice of the new names.
No Promises Made
"We are making no promises," said Vachovsky, adding his business will install a link between his site and the FTC notice.
The federal commission is warning against unsolicited offers by fax and e-mail, and recommends prospective name buyers get their updates on the new domains by consulting the ICANN Web site at (www. icann.org).
The new domains come as demand increases for Internet addresses.
Internet names are no longer for the Fortune 500 but "the global 1 million," said David Heemann, president and CEO of Carlsbad-based Nondotcom, Inc., another company stepping up to meet the name demand.
ICANN this month approved Nondotcom's application to register domain names. The company, which provides a number of other Internet-related services, will be registering currently available names before year's end, said Heemann.
Growing Demand For Domains
The interest in domain names now cuts across all businesses and industries, Heemann said. In a field such as law, it's not just the big firms, but smaller outfits and court reporting firms that have Web sites as well.
One recent name-buyer is Steve Lutzker of Escondido. He recently registered two names , lutzkergroup.com and sandiegobonsai.com. Bonsai trees are a hobby he hopes to turn into his retirement business.
Lutzker, who does business with Heemann's Internet company, said he chose dot-com names because he could get them , though he observed that could have been harder if his last name was something like Jones.
The new domains may take some getting used to, he added, noting a business person rattling off a Web address may have to call after a client: "Remember now, that's dot-biz." In another reminder of how ubiquitous Web addresses are, Abacus' Vachovsky said he recently found himself following a trash truck with a Web address posted on it.
Abacus actually made a bid to become the main administrator for the dot-biz suffix and for four other suffixes.
ICANN chose to award the dot-biz business to JVTeam, LLC of Washington, D.C.
Abacus had also proposed to operate the database for suffixes dot-inc, dot-fam, dot-xxx and dot-cool. ICANN chose to go with none of those domains.
Like its competitors, Abacus paid a $50,000 application fee for ICANN's consideration. Vachovsky said he would like to appeal ICANN's decision.
ICANN is the technical coordinating body for the Internet. The nonprofit company is based in Marina del Rey.