Profile---Mohamed Moustafa suits up to place fledgling CSU San Marcos among elite business schools
Monday, November 27, 2000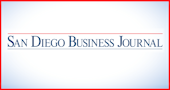 ver the past four months, CSU San Marcos' new dean of business administration discovered many locals knew little of the campus nestled in the hills of North County.
The new dean traveled to conferences and meetings in Tampa, Las Vegas and Idaho and experienced the same thing. He had to repeatedly explain where and what the school was all about. Sure, people had heard of San Diego, but San Marcos was a different story.
Mohamed E. Moustafa, or Mo, as he is known by his colleagues, plans to change that.
Moustafa, who says he's 60, joined the college's administration in July. He wants the accomplishments at the university of 6,000 students to speak for themselves not only to people from outside the county, but also to the community surrounding the campus.
According to Moustafa, getting more acquainted with his San Marcos neighbors is a top priority.
"There is a need to integrate the college of business into the business community," Moustafa says. "We have to serve the business community in San Diego County and south Riverside and Orange counties. If we are not accommodating their needs, then we're not doing our jobs."
Making those accommodations is sometimes easier said than done, according to the new dean. There are several things that must be done to achieve success.
First, he said, is to capitalize on and broaden the school's advisory board.
Moustafa plans to double the board to 16 people by the end of the school year. In four years, he hopes to have an advisory board of 40.
Another priority for Moustafa is to recruit faculty to meet the demands of the growing student body. Currently, there are 30 faculty members in the College of Business. Eight more will be hired this school year, he said.
Every year for the next four or five years, three or four faculty members are expected to be hired.
Rapid Growth
Moustafa said the staff additions are driven by a growing student body. The entire CSU system grew by 4.5 percent in one year; the San Marcos campus grew by 9 percent; and the school's College of Business increased 17 percent, he said.
"This is remarkable growth," Moustafa says. "If you assume we will grow only the average of 4 or 5 percent a year, you can see there is always a need for faculty."
Born in Egypt and educated at Cairo University, Moustafa has been teaching business issues to students and organizations for nearly 30 years.
But his first lesson in business administration came when he was a teen-ager in a house with six brothers and sisters.
"One day my father asked who is going to take care of the business, and I was the only one who volunteered to do it," Moustafa recalls.
It was his father's trucking business. Moustafa says his father's work ethic is what steered him to study business. The funny thing, he notes, is he was never able to assume control of the business.
"I never took it over because I came to the (United States) for my master's degree," he says.
CSU San Marcos has seen the benefits of being connected with area businesses. Recently, the school received a $1 million contribution from Qualcomm Inc.
Moustafa says the school's salary structure makes it difficult to attract qualified, full-time faculty. This gift, he notes, will help.
A Turning Point
"This, in my opinion, is a turning point in the life of the college," Moustafa says. "It gives us the opportunity to do what we want to do but lacked the needed resources."
Hiring new faculty members is not the only solution to meeting the needs of area businesses, Moustafa says. The school must be sure the curriculum and those teaching it are constantly evolving as the industry changes.
"We have to be on our toes," he says. "We have to reinvent.
"You have a history major 10 years ago and a business major 10 years ago. The curriculum for the history major didn't change very much, but if you don't change the business curriculum, you are graduating obsolete graduates."
Moustafa received a master's and doctorate degree from the University of Illinois at Champaign-Urbana.
He is a tenured professor at CSU Long Beach, where he served for seven years (1981-88) as the dean of the College of Business Administration, for four years (1975-80) as chairman of the department of accountancy, and for one year (1971-72) as director of the international business program.
He also has been a consultant on international business for the World Bank, the Organization for Economic Cooperation and Development, the International Labor Organization, the United National Industrial Development Organization and other international and national organizations.
Since taking the position at CSU San Marcos, Moustafa says his free time has been spent in his office. Although he enjoys the arts, classical music, playing tennis and running, those things have been put on a back burner for the time being.
"This is my hobby," he says, referring to heading the College of Business Administration. "I like to build, and so far I'm building a program and I'm very happy. It doesn't matter how much time I put into it. I'm a mission-oriented person."
One way Moustafa prepares graduates to successfully step into the business world is by running the school as a business , a trait he says sets the school apart from others.
"Most other (programs) are organized around departments, and each department will create a wall around itself, so they act in isolation. The business community does not function that way.
"Our program is organized around academic programs instead of departments."
The business administration program at CSU San Marcos is centered on three disciplines: service sector center, high-tech management and accounting/finance. Among those three are various academic programs with a pool of faculty drawn from other centers, Moustafa says.
"They each need each other."
Troubleshooting
Each graduate spends the last two semesters working on a project to solve a problem for some company. Students from the three disciplines work together on the project and are supervised by a faculty member and someone from an area business.
The senior experience is valuable to all parties involved because the organizations get work done for free, and the students get important work experience, the dean notes.
The students have completed projects for companies like Qualcomm, Sony, Hewlett-Packard, Ericsson, Alaris Medical Systems Inc., Solar Turbines, and the cities of San Marcos, Carlsbad, Oceanside and San Diego.
"There is more demand for our teams than we can supply," Moustafa said. "That means there is a value that these students are offering in the industry."
Seeking Accreditation
Another priority for the new dean is to get accreditation from the American Association of Colleges and Schools of Business for the business college. Moustafa says there are thousands of business colleges in the United States, but only 295 are accredited by the AACSB.
"Our challenge is to attract an optimum level of quality students, attract and keep full-time quality faculty and incorporate outcome assessment measurements to ensure the relevance of our curriculum to the needs of our business community."