Media & Marketing---'On the Money' radio show syndicated nationally
Monday, November 27, 2000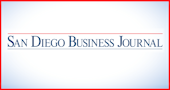 KSWB-TV Assigns Station's Permanent
News Director
A different kind of volume will be pumped up for local talk show "On the Money with Ray Lucia."
Having struck a syndication deal, the morning program, which has been airing on KSDO-AM for the last couple years, will soon be broadcast on about 80 stations around the country.
Financial details of the agreement signed with the Business Talk Radio Network for Lucia or the KSDO technical team were not disclosed.
"For the last couple of years, Ray and I have talked about and have been looking into syndicating the show," explained Cliff Albert, program director for KSDO.
"Ray was able to work out an acceptable agreement with Business Talk Radio and we were able to work out an agreement to originate the show and provide technical, programming and coaching support for the show," Albert said.
According to Lucia, the show will retain its local feel.
"My show will sound just like it always has for San Diego," he said. "And we'll have a special call-in line just for my local callers."
As a result of the syndication, KSDO will switch its programming schedule effective Nov. 27. Lucia's show, which had aired from 6 to 9 a.m., will move to the 9 a.m. to noon slot, and KSDO's previous 9 to noon inhabitants, "Sully and Scooter," will take over the morning drive.
Look for the new Sully and Scooter to be reflective of the San Diego lifestyle, according to KSDO. Still hosted by Bob Sullivan and Scot Tempesta, the show will have listener call-ins, features, news, traffic and sports updates.
- - -
New News Director: KSWB-TV acting News Director Suzanne Black will take over the position permanently, according to the station.
Black took over the position when former news director Geoff Roth left in September. At the time, Black was executive producer of the station's nightly newscast.
Her husband, Bryan, is a reporter at the station. According to KSWB, Suzanne Black began at the station a year ago as a part-time assignment editor. Since then, she was promoted to full-time weekend producer, weeknight producer, then executive producer.
According to KSWB, Black's previous experience includes 10 p.m. newscast producer for the ABC affiliate in Little Rock, Ark.; producer for KARN, a statewide CBS radio affiliate; and producer for the Fayetteville, Ark., ABC affiliate, KHOG/KHBS.
Status Chart: The story of Bill Trumpfheller, the newly named president of Nuffer, Smith, Tucker, Inc., illustrates the importance of paying attention in school. As an SDSU student, Trumpfheller took a public relations class at SDSU taught by Nuffer, Smith, Tucker CEO Kerry Tucker. Trumpfheller, who earned an A, made a strong impression and Tucker gave him an internship at the firm. Fourteen years later, Tucker stepped down from the president's post and promoted Trumpfheller. Tucker remains the firm's CEO. Local firm Blue Moon Communications, Inc. recently signed San Diego-based Megatronix Systems International, Inc. Spear-Hall & Associates signed Internet access provider Volonet Technologies. Locally based Cyberkart Internet Marketing recently moved to a new office on Balboa Avenue in Pacific Beach. Local firm Courtney Marketing will handle advertising for RWR Cos. when it enters the San Diego market this year.
- - -
Sound Bites: According to the San Diego Press Club, 60 nominations are the starting point for the group's annual headliners award banquet, planned for Feb. 8. The committee, led this year by local reporter Reid Carroll and Sal Giametta, vice president of community relations for the local Convention & Visitors Bureau, have to narrow it down to 20. Local new media services company PixelRocket won a NetDiver Design Forte Award for its own Web site, at (www.pixelrocket.com). County Television Network launched a new show, "The County Cooks! With Chef Larry" on Nov. 24. The show, planned to have a new theme each month, is scheduled to air daily at 7:30 p.m.
The deadline for the next Media & Marketing column is Nov. 30. Rodrigues can be reached at (858) 277-6359, Ext. 107, or via e-mail at trodrigues@sdbj.com.