Investing---Finance book covers aspects of making smart choices
Monday, November 27, 2000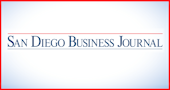 No more cringing on the telephone as a salesperson pitches you a script-driven, get-rich-quick scheme.
San Diego-based author Bill Bachrach has written a new book aimed at helping people make smart choices about their money.
On many unfortunate occasions people have gone through numerous financial products or encountered shady financial planners who have left them in dire straits. "Values-Based Financial Planning; The Art of Creating an Inspiring Financial Strategy" tells how to implement a financial plan, manage investments and learn how to find a trusted professional to complete and help carry out that financial plan.
The basis of the book is to help people find ways to manage their money based on what's truly important to them, what Bachrach refers to as their core values. Each of the eight chapters contains step-by-step exercises to assist individuals in the following:
- Identifying values;
- Prioritizing and defining goals;
- Creating a financial road map; and
- Educating themselves or seeking an adviser to guide them in creating and implementing a plan.
The financial road map serves as a guide for carrying out a financial plan that suits the individual's financial motives.
For those who want to enlist the help of a professional adviser, included is a chapter that teaches how to avoid salespeople and find a "trusted adviser." These financial professionals focus more on what the client wants, rather than transaction-oriented sales techniques to get only what the financial planners want.
Ultimately, Bachrach said, "Values-Based Financial Planning" is about taking control of the financial planning process on an individual's own terms.
The most important factor of the book comes in understanding that money is only important to the extent that it allows one to enjoy what really matters to them. In the end, he said, not having to worry about finances is critical to having a life that us exciting.
The book was released July 2000 and is available for purchase online at Amazon.com or through Bachrach & Associates.
Bachrach is a financial services industry speaker, consultant and author. Bachrach & Associates offers training that helps financial professionals accomplish their goals.