Health Care---Combining the county's pediatric resources moves closer to fruition
Monday, November 27, 2000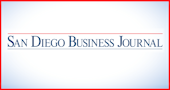 Negotiations over the proposed merger between children's health care providers at UCSD and Children's Hospital are expected to be complete by January 2001.
Still, some hurdles remain. Both entities have yet to agree on the duration of the agreement, terms of termination, and how to finance a planned $40 million research facility on the Children's Hospital campus in Kearny Mesa.
The approval by the University of California Board of Regents on Nov. 16 marked a milestone in joining the children's health care operations of UCSD and Children's Hospital.
The Children's Hospital board of most of its pediatric programs from the UCSD Medical Center in Hillcrest to Children's.
Children's would become the primary teaching site for medical school students and pediatric residents with UCSD directing the effort.
Sadler said combining specialty services, such as critical care and intensive care units, will save money and reduce unnecessary duplication. He said the same is true for buying new equipment.
Dr. Robert Hertzka, immediate past president of the San Diego County Medical Society, agreed.
"The pediatric services at UCSD and Children's have been held up as an example of duplication of resources that may not be of benefit to the community," Hertzka said.
He said their joint effort is long overdue.
UCSD gets the research grants and Children's gets the patients , it only makes sense to put the two together, Hertzka said.
However, critics such as Geri Jenkins of the California Nurses Association, which represents UCSD nurses, disagree.
Warning Of Failure
Jenkins cautioned if the merger turns out to be a failure, San Diego's community will have no other pediatric facility to fall back on.
"Our concern is that this merger gives Children's a huge chunk of the market," she said. "UCSD indicated if this doesn't work out, it would be too expensive to re-establish a children's care unit (at UCSD)."
Others in the community expressed concern that patients will be limited in their choice of doctors. Both Sadler and Jones refuted the arguments.
Patients will have the same choices of doctors and will not have to wait longer to receive care, Sadler said.
He added, "Studies have shown that quality of care improves if you consolidate very complicated procedures in one place rather than have them fragmented."
The merger will bring additional costs.
He pointed to necessary renovations, such as adding treatment and exam rooms to accommodate more people at Children's.
Sadler wasn't able to give specific financial figures.