Finance---Local bank announcing loans for three hotel construction projects
Monday, November 27, 2000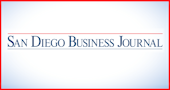 A local bank recently announced loans for three hotel construction projects in San Diego.
San Diego National Bank, a subsidiary of First Bank of Oak Park in Illinois, loaned $87.6 million to two new construction projects in the Gaslamp District and in Kearny Mesa, and to a remodeling project for a resort and spa in La Jolla.
The new construction projects include the Hilton San Diego Gaslamp Quarter, a 253-room hotel across from the Convention Center developed by San Diego Bridgeworks, LLC, and a Courtyard by Marriott, a 246-room project in the Kearny Mesa Spectrum, developed by Kearny Villa Motel Venture. The bank lent $36.6 million to the Hilton project in the Gaslamp, which is in operation, and $19 million for the Kearny Mesa Marriott, which is about to break ground, said Robert Horsman, CEO for the bank.
The Lodge at Torrey Pines Partnership, a firm within the San Diego-based Evans Hotels chain, received $32 million for a 125-room, high-end resort and spa along the Torrey Pines Golf Course.
Construction at the Lodge involves remodeling current buildings into bungalow-type structures, said Grace Cherashore, CEO of Evans Hotels.
- Developments
Financially Sound
Diversified in location and clientele, the three loans were sound investments, Horsman said.
"We've got a really good mix here," he said.
The bank's loan follows a pattern for hotel projects in which developers proved they could pay upwards of 40 percent of construction costs before loan approval.
Despite San Diego's need for hotel rooms, for transient occupancy tax purposes and the expansion of the Convention Center, hotel developers are finding it hard to locate financing, developers said.
"We like to see a loan to (construction) cost of about 60 percent," Horsman said.
The Torrey Pines Partnership proved it could pay 40 percent of cost before the loan was agreed upon, Cherashore said.
Jeremy Cohen of San Diego Bridgeworks influenced the deals, she added.
Cohen was unavailable for comment.
All three loans are payable within 30 months, Horsman said. They represent 7 percent of all outstanding loans.
- Lodge Project
Breaks Tradition
The Lodge at Torrey Pines is a break in the mold of traditional Evans' hotels, Cherashore said.
The Lodge will be much smaller than other Evans Hotels, such as the Catamaran Resort Hotel and Bahia Resort Hotel, both located on Mission Bay. It will cater to the "very high-end" corporate traveler and tourist, Cherashore said.
The smaller venue allows for more personalized service for guests of the local biotech and high-tech firms in the area, Cherashore said. The spa will cater to the high-end traveler much like the La Costa Resort and Spa.
The Lodge will have tough competition with established giant hotels, including the Hyatt Regency La Jolla and the Hilton La Jolla Torrey Pines, in the area.
"There's no question there are good hotels up there," Cherashore said. "We are not trying to compete with them. Both of those hotels have over 400 rooms. They offer very different experiences."