Enterprise---Firm's future revolves around a wristband that offers relief from nausea
Monday, November 27, 2000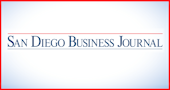 One Carlsbad-based medical device maker prides himself in having raised more than $30 million in venture capital money, during a time when others in the same field were struggling.
Gregory J. Gruzdowich, president and CEO of Woodside Biomedical Inc., said he was able catch investors' attention, because they realized the potential of the firm's unique niche product. ReliefBand , an electronic device worn on the wrist to ward off nausea , was approved by the Food and Drug Administration in October 1998 for prescription use to treat nausea and vomiting caused by chemotherapy, pregnancy and as a result of surgery. In March 1999, the FDA extended approval of the device for over-the-counter sales for motion sickness.
Staggering Market Potential
While the product has yet to make a breakthrough on the market, the potential market size is in the billion-dollar range, said Gruzdowich. He estimated an annual $400 million marketing potential for prescription use in the United States alone, estimating there are about 2 million cancer patients undergoing chemotherapy every year and an equal number or more pregnant women suffering from morning sickness.
However, that is only a tiny fraction compared to the $1 billion potential on the retail side. Gruzdowich estimates between 25 million and 50 million Americans get nauseated on boats, in cars and airplanes every year. Gruzdowich hopes ReliefBand will become the preferred drug-free anti-nausea alternative.
The company has sold some 50,000 units since ReliefBand hit the market in early 1999, he said.
Disposable, Reusable Options
The idea to combine traditional Chinese acupuncture with electrical stimulation to override the waves of nausea was the brainchild of Larry Bertolucci. The Chinese have long used acupuncture along a specific nerve point near the wrist called the pericardium 6 to relieve nausea. Bertolucci, a Stanford-trained physical therapist, sought to develop a device that could stimulate this nerve point continuously without puncturing the skin as acupuncture does. He came up with a battery-driven bracelet that has two small electrodes on the underside and a rotary-dial control on the upper side for users to choose among five levels of stimulation. No one quite understands how stimulating the wrist appears to take nausea away, Woodside reported. Another bracelet on the market designed to simply put pressure on the pericardium 6 to reduce nausea has been effective for some people, Gruzdowich said. In 1991, Bertolucci started Woodside's predecessor , Maven Laboratories , with $2 million from private investors. But the firm never took off. After six years of research and development, the prototype "ReliefBand" was still riddled with flaws, Gruzdowich said. The product was difficult to produce and use, he said. A major problem was that it used too much power, forcing users to replace batteries too often.
Device Is Adjustable
In 1996, Menlo Ventures, a San Francisco-based venture capital firm, invested $2 million in Bertolucci's technology. But after one year of disappointing news, Menlo decided to clean house at Maven, said Gruzdowich. They called on Gruzdowich ,formerly CFO of the San Diego-based health care firm Pyxis Corp. , to turn the firm around. Living off his Pyxis' investment returns, he was spending most of his time golfing and being a dad, but missed the thrill of being an entrepreneur. He was critical at first, but after seeing ReliefBand's potential, Gruzdowich finally agreed to take up the challenge.
New Team Involved
New Team Involved
The restructuring plan called for a new management and R & D team, the return of R & D; from a Chinese contractor back to San Diego, and a more attractive look for ReliefBand. In October 1998, one year after Gruzdowich took over Woodside, there was success. The FDA approved the new prototype. Gruzdowich also hired six salespeople to introduce the device to oncologists and obstetricians nationwide. But it was tough.
"To get time with a busy oncologist is very difficult and then to convince them to try something outside of what they're comfortable with again is very difficult," he said. Raffi Simonian, director of pharmacy at UCSD Medical Center in La Jolla, recently dispensed a few ReliefBands , compliments of Woodside , to UCSD doctors.
Feedback Is Mixed
Thus far, he's gotten mixed feedback. Oncologists find the device can be effective when combined with standard anti-nausea drugs in patients receiving high doses of chemotherapy , but not as a stand-alone product, Simonian said. In patients receiving lower doses of chemotherapy, ReliefBand alone could suffice, he said. Obstetricians, by contrast, find that ReliefBand may be the preferred treatment option for pregnant women as compared to prescription drugs.
Dr. Nathan Slotnick, a geneticist and obstetrician who treats high-risk patients, completed an independent study using ReliefBand on 41 pregnant women who had severe nausea.
On a scale from zero to five, ReliefBand provided relief on the upper side of 4.5 on average, he said. He said while the product is good, replacing batteries can be costly. Slotnick does not have a stake in the firm. Gruzdowich, however, has already shifted the bulk of his marketing efforts from doctors to consumers. ReliefBand is available in specialty stores, such as Sharper Image, which sells electronics, and West Marine, which sells boating equipment, and on the Internet by Aeromedics, an aviation retailer. Consumers can choose between a disposable device with a 144-hour battery life, or a reusable unit with replaceable batteries. The difference is price.
The disposable unit costs between $60 and $80 each; the reusable one runs between $130 and $150, he said. Most health insurers, including Aetna and Blue Shield of California, already agreed to cover ReliefBand for prescription use, he said.
In the spring of 2001, Gruzdowich hopes to bring a less-costly version of ReliefBand onto the shelves of most major drug stores. Gruzdowich is talking to the Walgreen's, Longs Drug Stores and Sav-On drug store giants about introducing a less costly version (about $99 each) of ReliefBand without the extra leather strip band and travel pouch. Gruzdowich said he plans to focus his time and energy on establishing ReliefBand as a brand name. He said there is no equivalent device on the market to combat nausea, adding the firm holds strong patents that will make it tough for rivals to move into Woodside's space.
Wende Hutton, general partner at Mayfield Fund in Menlo Park, which funneled some $5 million into Woodside, estimated an even higher marketing potential of more than $3 billion. "We were very struck by how high the unserved market is (for a device for patients suffering from nausea)," Hutton said.
She estimated ReliefBand's total annual market potential could be more than $3 billion. Other venture capital firms with a stake in Woodside are Patricof & Co. Ventures Inc. in Palo Alto, Enterprise Partners in San Diego, Menlo Ventures in San Francisco, and Venture Capital in San Diego.