Editorial Vaccine shortage could cause a lot of headaches
Monday, November 27, 2000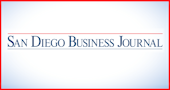 In years past, by the Thanksgiving holiday weekend most of us had rolled up our sleeves and gotten a shot to ward off the flu.
Company-sponsored immunizations have become about as common this time of year as a quarterly 401(k) report or a canned food drive to feed the needy. Bosses realized that for a nominal fee, health providers would spend an afternoon inoculating the staff, thus assuring the office wouldn't be ravaged by a flu epidemic.
This year, however, is different. Few companies have lined up their workers for the annual needle prick. Flu vaccines are in short supply this year, and flu season is just around the corner.
Some health care providers contend vaccine manufacturers have purposely stalled production in order to drive up prices. Frenzied providers are paying a king's ransom , three times the normal price, according to one report , for the vaccines.
Kaiser Permanente received only about a quarter of its order, while Sharp Healthcare finally received its first shipment late last week. Unfortunately, the county health department's initial shipment was only about half of what was needed.
It's expected that Congress will look into the issue and at some point legislate some type of reform, but it will be too little, too late for the coming winter. It's also being predicted the vaccines now arriving in ample supply to the county might not make it in time to those who need it most , the chronically ill and elderly.
It's also a safe bet those companies that annually schedule staff vaccinations in early fall won't get the chance to hold it after Thanksgiving. The holiday season doesn't offer much free time for employees, and health providers likely will be overwhelmed now the vaccines are arriving.
This, plus two hospitals have closed this year. Scripps East in El Cajon closed in June, while Mission Bay Hospital is drawing down its operations just as the flu season kicks in. Emergency rooms annually are packed in the winter with people sick from the flu. The loss of two hospitals merely compounds what could be the region's most dangerous flu season yet.
Health officials are offering assurances that soon there will be an ample supply of vaccine. Yet such delays are unacceptable, especially if the blame in fact lies with greedy pharmaceutical companies. Perhaps these firms really do deserve the battering they took at the hands of presidential and congressional candidates this past fall.
As one local doctor noted, such actions are criminally insane. Early next year, he added ominously, people could be dying or hospitalized because of they didn't receive an immunization against the flu.
And if you arrive at work one morning to a nearly empty office, you, too, will know who's responsible for your co-worker's ills.
, Rick Bell