CyberBucks---Kissing a few frogs proves profitable for local firm
Monday, November 27, 2000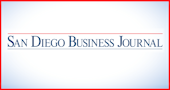 John Whalen freely admits his company's business strategy of buying profitable Internet companies may seem unrealistic to some, but he remains optimistic it's a winner.
GlobalDigitalCommerce.com, which changed its name last year from C2i Solutions, has a defined business plan to acquire "profitable, high-growth and cash flow-positive Internet infrastructure and services businesses."
Where, pray tell, does one find those, he was asked.
"You've got to kiss a lot of frogs," Whalen said. "We realize we have a daunting challenge in front of us."
Whalen said GDC may have located a good candidate for the company's initial purchase in Sitelab International, Inc., a San Diego Web site developer.
This month it offered an undisclosed amount of cash and stock for Sitelab in a deal expected to close by the second quarter of next year. Sitelab has 16 employees.
GDC wants to become a leader in providing businesses e-commerce solutions by acquiring firms operating in the Internet arena. Targets include Web site developers, Internet service providers, integrators, and infrastructure providers, both hardware and software resellers.
The idea is to find good, profitable businesses and integrate them into the rest of GDC's subsidiaries, then allow them to operate as independent entities. The subsidiaries would then provide new business leads to the other subsidiaries.
Industry analysts predict revenues for businesses in the e-commerce industry will grow from $43 billion in 1998 to $2.7 trillion by 2004.
While the prospects for companies in this industry appear limitless, the going has been rough for many, including C2i Solutions, which was formed some four years ago to provide Y2K solutions to small- to mid-sized companies.
Last year, C2i Solutions reported a net loss of $1.5 million on revenues of about $463,000, compared to a loss of $3.1 million on revenues of about $650,000 in the previous fiscal year.
The company, which has nine employees, reported zero revenues for its first quarter.
Whether it was these figures, the uncertainty surrounding the President-elect, or the bashing e-commerce stocks are taking, GlobalDigital's stock hasn't fared well this year. It was trading at $1.43 earlier this year, but hit a low of 12 cents last week.
Last year, C2i's stock was delisted from the Nasdaq small cap board because it failed to meet minimum criteria. It's now traded on the over the counter bulletin board.
Whalen, the former president of Netcom On-line Communications Services, is the owner of 1.5 million of GDXX's shares, and the largest single investor. The company has a total of 5.6 million shares outstanding.
- - -
Active.com Attracts $21 Million: San Diego-based Active.com, an online registration company for participatory sports and recreational activities, said it secured $21 million in a second round of financing led by ABS ventures, the North American VC affiliate of investment banker Deutsche Banc Alex Brown.
That round brings the total invested in Active to $52 million since last year when the company was formed.
Additional financing came from new and current investors including Hambrecht EU Capital; Brian and Jennifer Maxwell; Ticketmaster-Online CitySearch, Enterprise Partners, Austin Ventures and Kettle Partners.
The company said it provides online registration for an estimated 20,000 events worldwide, including 300 international events. The company gets 5.5 percent of the registration fee plus a 50-cent processing fee for every entry.
With its announced acquisition of another firm last month, Active.com will offer online registration for recreational activities at public parks.
New Enterprise Fundings: Enterprise Partners Venture Capital, the La Jolla-based VC firm with some $745 million in capital under active management, said it made four new investments totaling more than $30 million during its third and fourth quarters.
Receiving investment funds were NP Photonics Inc., a Tucson-based developer of fiber optic components, $15 million; E-Color, Inc., a San Francisco-based firm that provides color corrected images on the Internet, $10 million; Overwave, Inc., a San Diego-based mobile Internet application provider, $5.3 million; and TradeBeam, an Encinitas-based application service provider for international trade, $1.1 million.
- - -
Sevin Rosen To Open Office: Sevin Rosen Funds, a Dallas-based VC firm with more than $2 billion under management, said it plans to open a San Diego office sometime in the next few months.
Heading up the firm's newest office is Steve Domenik, who is already here, overseeing Sevin Rosen's investments in three local startups, Silicon Wave, LightPointe Communications, and Optical Micro Machines.
Sevin Rosen's investments target innovative technology companies involved in such industries as optical networks, wireless Internet and E-commerce infrastructure.
"We will continue to build technology companies that can outlast the trends and deliver extraordinary value under any market conditions," Domenik said. "It's no secret that our partners roll up their sleeves and work side-by-side with entrepreneurs. Companies that were started in our offices now have a market cap of over $75 billion."
Among the more prominent winners from Sevin Rosen's substantial portfolio are Compaq, Lotus Development, Cypress Semiconductor, and Capstone Turbine. The latter's market current cap is about $3.5 billion.
Metallic Power Closes $18M Round: Carlsbad-based Metallic Power Inc., a developer of recyclable power cells, said it closed an $18 million third round of financing, bringing the total invested in the firm to about $27 million.
Investors in the round include Beacon Group Energy Funds, New York; Cinergy Ventures LLC, a unit of Cincinnati-based Cinergy Corp.; Cominco Ltd. of Vancouver, British Columbia; and Perseus LLC of Wash half-full.' The ISO's seeing the same picture, saying, 'The glass is half-empty.' But they're both essentially agreeing that the glass is so small, it's not going to sustain California this summer," Shames said.
It could be a close call, he said.
Shames pointed out that the CEC report said nothing about how electricity rates would be affected by availability , or lack thereof. If the Federal Energy Regulatory Commission fails to move to fix the structural problems that led to high prices this summer, the situation may repeat itself next year, he said.
For now, a rate freeze protects San Diego ratepayers from high prices, but they remain on the hook for the full cost of electricity through a "balancing account."
The difference between what customers are now paying for electricity and the actual cost is now building up, with a potential bill of $600 million to $800 million coming due for local ratepayers in 2003, Shames said.