Tourism-- High-tech firm's sponsorship boosts playgoers series
Monday, November 20, 2000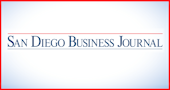 Old Globe Theatre to Expand Operations
With $5M Donation
Expect a couple of changes when the curtain rises on the 25th anniversary season of the San Diego Playgoers Series , A Nederlander Presentation this March.
The group has a new name and, for the first time, a season sponsor.
Local high-tech company Applied Micro Circuits Corp. has signed on for the yearlong season.
Although neither organization would reveal the exact amount, AMCC's sponsorship adds up to "the low six figures," said Bill Berridge, director of marketing communications for AMCC.
Playgoers operates a program of plays, musicals, dance and other performances. Currently, the shows are being staged in the San Diego Civic Theatre.
According to Joe Kobryner, general manager of the Playgoers Series, the sponsorship was needed to help pay for the season, which has a record-high 13 shows.
He couldn't estimate the season's costs because he doesn't have all of the contracts yet, Kobryner said.
According to Kobryner, his group has been looking for a sponsorship for more than a year.
The search, which Kobryner described as "low-key," intensified when Playgoers staff examined companies that were in its President's Club, an upscale subscriber program.
On the list was AMCC chairman, CEO and president Dave Rickey, who attended shows frequently, Kobryner said. AMCC emerged immediately, and a sponsorship deal was struck within a month, he said.
With the 2001 season announcement last week, came news of the group's name change. Still "presented" by New York City-based Nederlander Producing Co. of America, Inc., Playgoers has rechristened itself Broadway/San Diego.
The new name reflects several changes for the group, Kobryner said. For one, there are fewer plays and more musicals touring. There was also some confusion with what "Playgoers" meant. Finally, the term "Broadway" has also been branded in recent years, to the point that it's often equated with high-quality theater, he said.
Nederlander operations in Los Angeles and Chicago have undergone similar name changes, Kobryner said.
- - -
Checking In: Expanding programming, hiring top-notch actors and developing productions are the ways that the Old Globe Theatre plans to use its largest donation ever , $5 million from Harvey P. White, chairman and CEO of local high-tech company Leap Wireless International and a Qualcomm co-founder. White is currently president of the theatre's board of directors. A spokeswoman for the On Broadway Event Center reports that the San Diego Fair Housing Council, the San Diego Bar Association and the San Diego Convention & Visitors Bureau have already made bookings for 2002. The 25,000-square-foot entertainment venue and meeting center, which opened earlier this month, is owned by Mike Vicuso, who opened Gaslamp Quarter club E Street Alley in 1993. The Doubletree Golf Resort recently completed its $5.2 million renovation. Among the changes: The property's pink exterior has been repainted to neutral earth tones. More than $100,000 was raised Nov. 13 at the Plates of Gold, a dinner fundraiser organized by the California Restaurant Association's local chapter.
In Comes The Lion: No operational changes were expected when the Hanalei Hotel in Mission Valley joined the Red Lion Hotels & Inns franchise Nov. 17. Red Lion is owned by Hilton Hotels Corp. The Hanalei continues to be owned by a group that includes local businessman Bob Payne.
The deadline for the next tourism & hospitality column is Nov. 22. Rodrigues can be reached at (858) 277-6359, Ext. 107, or via E-mail at trodrigues@sdbj.com.