Technology-- MP3.com stock climbs as legal accord is reached
Monday, November 20, 2000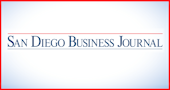 Agreement Ends Last of Copyright Infringement Suit
Internet music provider MP3.com, Inc.'s stock took a welcomed jump following the announcement last week that it had resolved its legal fight with Universal Music Group.
The San Diego Internet firm announced last week it had received permission to deliver the record label's tunes over the Web, sending the Internet firm's stock on an upward trajectory.
MP3.com stock closed at $4 per share Nov. 14, the day the matter was resolved. It closed at $8.50 per share Nov. 16.
U.S. District Judge Jed S. Rakoff on Nov. 14 approved a legal accord between MP3.com and Universal which calls for San Diego-based MP3.com to pay Universal $53.4 million to resolve a copyright infringement suit brought by Universal.
The amount was substantially less than some estimates of what MP3.com might have to pay. An MP3.com spokesperson insisted the accord was not a settlement.
Rakoff ruled in September that MP3.com had "willfully" violated Universal's copyrights. The judge OK'd the accord just before damages were to be determined at trial.
"We are glad that this case is now behind us and that we will be able to include (Universal's) music as part of our My.MP3.com service," said MP3.com Chairman and CEO Michael Robertson.
Stock Bumped Up
Nitsan Hargil, senior Internet analyst for Kaufman Brothers in New York, said last week he had bumped MP3.com's stock up by two ratings, from "hold" to "buy."
The size of last week's award was "wonderful news," said Hargil, considering what the amount of the damages could have been.
The judge in September spoke of one scenario where MP3.com would have had to pay Universal $118 million. Other published reports said the award could have reached $250 million.
MP3.com will be able to afford the $53.4 million hit, said company-watcher Phil Leigh, vice president for equity research at Raymond James & Associates, Inc. in St. Petersburg, Fla. After paying the award the company will still have about $200 million in cash, said Phil Benyola, a research associate in the same office.
Having licensing agreements from "five out of five" major record labels is very significant for MP3.com, said Hargil.
Malcolm Maclachlan, a media E-commerce analyst with IDC in Mountain View, said he believes a successful Internet music provider needs to have such relationships with the record labels, plus provide various services such as downloads, a locker service and online radio. Such variety is necessary "to get someone to lay down a credit card number," he said.
He noted MP3.com is "further along" than its competition in building such a varied service.
Five Original Plaintiffs
Universal and four other labels sued MP3.com in January because the San Diego company copied thousands of copyrighted compact discs onto its file servers to create its My.MP3.com locker service.
MP3.com voluntarily disabled the major label content from its My.MP3.com service in the spring while in negotiations to resolve the lawsuit. The company reached accords with the other four labels, but Universal held out until last week.
"It was never our intent to put MP3.com out of business with a judgment so large that it would threaten their viability as a company," said Zach Horowitz, Universal's president and COO, in a written statement.
Horowitz said his company pursued the case "to send a strong message that copyrights will be protected and that copyright owners and artists need to be properly compensated for use of their work."
MP3.com also announced last week that it had sold Universal Music Group warrants allowing Universal to buy up to 3 million shares of MP3.com stock , which represents less than 5 percent of the company. A published report put the purchase price at $250,000. The warrants are exercisable at prices ranging from $3.75 to $5 per share and range in term of one to three years.
MP3.com will re-launch its My.MP3.com service in the near future. An MP3.com spokesman said the company was trying to get it ready by the end of the month.
This time, the site will have two components: a paid subscription side and a free side. Both will display advertising, said the spokesman, though on the paid side of the site, advertising will be more modest.
Some 85 percent of MP3.com's revenues came from advertising during the third quarter, said the spokesman.
The $53.4 million MP3.com will pay Universal represents statutory damages and attorney fees. MP3.com officials said they do not intend to appeal the matter.
Last week also saw a new, class-action complaint filed against MP3.com, alleging copyright infringement. The complaint was filed on behalf of Unity Entertainment Corp. and others.
Benyola of Raymond James said he felt the latest suit would be a "minor setback." It was not significant enough to affect the stock Thursday, he said.