Technology-- Local firms are taking the Internet to the kitchen and elsewhere
Monday, November 20, 2000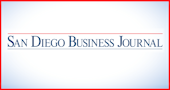 The kitchen, the family room and maybe even the basement workshop are new frontiers for home computing and the Internet.
San Diego companies are rolling out devices and technologies that will let people get on the Web in places they don't normally keep home computers.
Gateway, Inc., the San Diego-based computer maker, is introducing two computing peripherals in time for the holidays.
Its Connected Touch Pad appliance, designed for rooms without a computer, will offer Internet access via a touch screen and a special version of the America Online Internet service.
Gateway is promoting the device as something that can offer E-mail, information as diverse as television listings and family address books, plus Internet access. It will sell for $599.
Gateway will also offer something it is calling a Connected Music Player. The device looks like , and performs many of the same functions as , a high-fidelity system component, but it taps into audio files stored on a separate home computer hard drive. Like the Touch Pad, it can go in a different room than the computer. It will sell for $299.
As it starts to promote computer system components for different rooms of the house, Gateway is coming out with a way to link them.
Internal Phone Line Network
Existing home telephone lines will provide the hookup, along with special computer chips made by Broadcom Corp. of Irvine. The chips will be standard equipment on many of Gateway's new home computers.
The linking technology is called Home Phoneline Networking Alliance 2.0, and it will also connect computers with printers and tap the Internet. It will do it without additional cables or special phone service.
Computer signals will travel through the lines and not interfere with conventional telephone traffic, according to a statement distributed by Gateway and Broadcom.
Meanwhile, a second San Diego company is developing Internet appliances, though it is not putting its name on them.
iCEBOX
Stellcom, Inc. is refining a product called iCEBOX (short for Information Communication Entertainment Box) for CMi Worldwide of Seattle.
Designed for upscale kitchens, the product will let its user access material from DVDs, compact discs, cable television, video security cameras and the Internet. It can be mounted under cabinets (as can Gateway's Internet appliance).
UCSD Connect has taken notice of iCEBOX, selecting it as one of three finalists in the electronics category of next month's Most Innovative New Products awards.
Stellcom has also been doing work for Carlsbad-based DigMedia Inc., putting together hardware and software for a streaming music Internet appliance. The low-cost product will be called SoundCast