Technology-- Hospitals convert from film to digital technology
Monday, November 20, 2000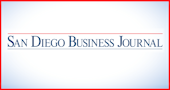 In a matter of weeks, film-based X-rays and related projectors and dark rooms will disappear from Scripps Mercy Hospital.
As the Downtown hospital joins the one-tenth of 1 percent of all film-less U.S. hospitals, the rules of medical networking and archiving are being thrown out, too.
Instead of reviewing the medical evaluations of a patient from previous doctors and radiologists separately, a surgeon in the operating room can direct a conference call with the other caregivers while they view the patient's medical records in real-time over Scripps Intranet.
CD-ROMs are already replacing thick medical files filled with expensive radiology film, said George Ochoa, Mercy Hospital administrative director for diagnostic services.
The CDs are stored in a JVC type-jukebox, with a carousel capable of holding 600 CDs, and are viewable by any computer connected to the hospital's Intranet. Scripps has over 2,600 affiliated doctors.
- Hospital Attempts Full Digital Imagery
Currently, the hospital is 90 percent film-less, said Jim Orlando, Mercy's technology director for the hospital's radiology department. It is the first Scripps hospital to attempt full digital imagery.
"The only time we really have to create film, right now, is when a patient is seeing a doctor outside our system and the other systems can't look at our images," he said.
Other San Diego hospitals and health care centers are moving towards full digital imagery, too.
The greatest impact digital imagery will have on patients is a lower dosage of radiation from X-rays, said Jim Dinlein, director of imaging services at Alvarado Hospital Medical Center.
Dinlein wouldn't give a specific decrease statistic from the for-profit hospital, but likened the X-ray process to an evolution of sorts.
"Years ago you had to really blast through someone to make a decent image on the film, because you had to get contrast on the high and low densities," he said. "With digital imagery you don't nearly need as much X-ray because the computer enhances the image" to look behind the heart or inside the bone.
- Millions Invested In New Technology
In Chula Vista, Sharp Healthcare has invested over $7 million in the technology and a two-story building for imagery and outpatient surgery.
The hospital administration expects to retrain the entire staff, said Peggy Gaul, director of business development for Sharp Chula Vista Hospital & Medical Center.
"We'll have to commit a sizeable amount of money for that," she said. "I really can't say how much."
The Chula Vista hospital and Grossmont Hospital in La Mesa are the only Sharp facilities to take on digital imagery so far, Gaul said. However, it is sweeping the health care industry.
"We're all approaching it cautiously because of the expense and the vast changes we're going to have to make to accommodate it," she said.