Small Business and Retail-- Small biz group offers E-commerce package
Monday, November 20, 2000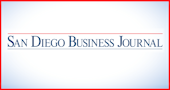 Stellar Graphics Finds Its Name
Isn't Very Stellar
A Washington D.C.-based small business advocacy group has announced an Internet solution for businesses looking to set up an E-commerce site.
GoLinQ.com, a service of the Small Business Survival Committee, helps businesses get an E-commerce enabled Web site without any monthly Web hosting or set up costs. GoLinQ.com provides all the services a small business needs to get a store online instantly, said Christopher Wysocki, president of the SBSC.
GoLinQ.com uses proprietary tools to help build and customize a Web site in minutes. It also includes Web-hosting services, E-commerce software, online promotions, and credit card processing , all the necessary tools for putting a business online, he said.
For more information on this or other services, go to the SBSC Web site at (www.sbsc.org) and click on the "SBSC Marketplace" icon.
- - -
What's In A Name?: San Diego-based Stellar Graphics had a problem marketing themselves up until recently. Its name wasn't very stellar.
The problem? There was more than one "Stellar Graphics" out there. That meant the company couldn't get the domain name of stellargraphics.com on the World Wide Web.
It also meant that, as the company began to market itself beyond the borders of San Diego County, they were opening themselves up to the potential of lawsuits from other companies operating as "Stellar Graphics" in Arizona, Canada and elsewhere.
So the company announced Nov. 3 that it had changed its name to Vividline Inc. The company is now in the process of trademarking its name, and has already set up a Web site with the easily remembered domain name of vividline.com.
Sophie James, president and chief executive officer of Vividline, warned other small business owners that they may find themselves facing something similar, and urged them to look into trademarking.
"With the outstanding possibilities created by the Internet, businesses are finding themselves reaching customers far outside their city limits," she said.
"While filing a fictitious business name statement will ensure you don't infringe on another business' name rights in your city, extending your business name and ventures beyond that will require more originality," she said.
James advised small business owners to visit a trademark office to learn how to avoid possible litigation. Just by promoting your business in another territory where another business has the same name, that could lead to a lawsuit that could cost up to $200,000, she said.
Changing a business name takes a good deal of work, But a trademarked name can bring a business owner peace of mind, James said.
Also, a truly original name is empowering. It gives a business a good way to distinguish itself from the rest, providing a unique sense of identity, she said.
"We know how important it is for a business to project a distinguishable image, even if they have to reinvent themselves," she said.
To trademark your name, it must be a name that no one in your line of work is using, whether they have trademarked it or not. James recommended logging on to the United States Patent and Trademark Office's website at (www.uspto.gov) for more information.
$18 Billion For Biz: American small businesses received a record of almost $18 billion in financing backed by the U.S. Small Business Administration during the recently completed fiscal year.
So said SBA Administrator Aida Alvarez, announcing that records were set in venture capital financing, total loan dollars, and dollars in loans to both minorities and to women.
In addition, the agency's technical assistance programs reached a combined 1.23 million entrepreneurs. The total for loans and venture capital financing of $17.96 billion exceeded last year's total by more than $1.5 billion, she said.
"The SBA's accomplishments last year, and over the past eight years, have been a significant factor in the creation of nearly 6 million new businesses and more than 22 million jobs since 1993, and 17 million of those new jobs were created by small businesses," she said.
Alvarez considered the record amount of capital provided through the SBA's programs to reflect the shared commitment of the congress, the administration, and private and public sector partners.
All are aiming for a growing and vibrant small business sector, and are hoping to open the doors of economic opportunity for all Americans, she said.
"Since the end of fiscal 1992, the SBA has backed more than $83 billion in loans to small businesses, more than in the agency's entire 40-year history before that time," Alvarez said.
In fiscal year 2000, which ended Sept. 30, the SBA approved a combined total of 50,420 loans amounting to almost $12.37 billion, she said.
Alvarez also noted that a record 30 percent of all SBA loan dollars in FY 2000 went to minority borrowers , more than $3.7 billion to 13,184 minority-owned businesses. SBA also made almost $2 billion in loans to small businesses owned by women, also a record.
The SBA will continue its efforts to boost loans to women and minorities over the coming year. This will promote economic empowerment in communities that have been left behind in this great economy, by supporting the development of small businesses in those communities, she said.
Please send all small business and retail items to Lee Zion at lzion@sdbj.com or call (858) 277-6359, Ext. 112.