School Cameras Roll With New Video Van
Monday, November 20, 2000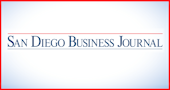 With the assistance of Pacific Bell, students throughout San Diego County will take part in a learning experience unlike any other in the area.
Through a $440,000 grant from Pacific Bell, the county's Office of Education is able to transmit live television broadcasts and full broadcast quality videoconferences from schools and other venues throughout the county.
Of the $440,000 grant, nearly $275,000 was dedicated to the development of the mobile production unit.
The new video production van, launched in October through the Log Onto The Future program, is capable of broadcasting live video directly to nearly 350 schools throughout the county.
The video can also be aired on the county's ITV cable access channel to more than 850,000 households in the region.
The first application of the van recently delivered Castle Park Middle School's "Math Vision" television show from the school's Chula Vista site to thousands of classrooms and homes.
"The unit enables us to establish the equivalent of an educational C-SPAN network, capable of broadcasting from almost any location in San Diego County," said Rudy Castruita, superintendent of schools for San Diego County. "Students in classrooms from Fallbrook to San Ysidro can be linked directly through live broadcasts, not only to other teachers and classrooms, but also to some of our region's best scientists, university researchers or business professionals."
Production capabilities will range from simple one camera remote broadcasts to complex multi-camera town-hall meetings, according to Pacific Bell officials.
"Pacific Bell recognizes that education is the key to success," said John Hull, area vice president for Pacific Bell. "The mobile production unit is the result of close cooperation between Pacific Bell and county schools to ensure that the technology we provide directly supports efforts in the classroom."
Through the Log Onto The Future program, Pacific Bell is working with the Classroom of the Future Foundation and the county Office of Education to bring high-speed data transfer and video conferencing into classrooms. In addition to the mobile production unit, the company is linking 12 schools and eight districts via high-speed T-1 connections.