Profile-- Vicki Marion led micro-headset builder Jabra Corp. from startup to a multimillion-dollar success
Monday, November 20, 2000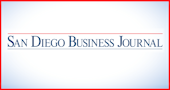 An Ear For Success
Vicki Marion Led Micro-Headset Builder Jabra Corp. From Startup To a Multimillion-Dollar Success
There was a time when Vicki Marion concerned herself with heavyweight, high-tech items: X-ray inspection systems for electronics manufacturing; superconducting magnets for medical imaging systems; nuclear fusion technology , not exactly household stuff.
But like San Diego's economy, Marion's career has evolved. Over the last several years, she has made the transition from government contracting to consumer products.
Now Marion, 46, is CEO and president of Jabra Corp., which manufactures compact headsets that plug into cellular telephones. The tiny device, which has a unidirectional microphone placed near the ear, allows a user to talk and listen while freeing both hands to do other things , like steer a car.
Jabra began life in 1993. Marion took over in 1997, expanded the business, then led it through this summer's sale to a Danish company. Today, Jabra is an independently operated, strategic business unit of GN Netcom, which now applies the Jabra name to its own products.
"I guess that's the proof you've got some success," Marion says, calling it a case where a competitor realized Jabra had the dominant position in the mobile communications market.
Deloitte & Touche LLC has recognized that success, announcing last week that Jabra ranked 100th on its list of fastest growing technology companies in the United States. Jabra was No. 7 on the accounting firm's local "Fast 50" list of growing technology companies, which took in both San Diego and Orange counties.
Rapid Growth
In recent years, Jabra has grown to 60 employees. It has expanded its line from a single product to six. The company, which produced roughly 25,000 units 18 months ago, shipped a little less than 1 million in September. Revenues were at $600,000 in 1997; Marion projected them at more than $40 million this year.
To accomplish that sort of growth, Marion says she leaned on management experience gained from her days with two other San Diego companies: General Atomics and IRT Corp.
"I feel as if I trained my whole career for Jabra," she says. "Because I had to really understand financing. Because I had to restructure our capital structure and seek venture capital.
"We were so small," she says. "I had to really know a lot of functions. So I feel like GA gave me great underpinnings on how to grow a company and how it had to operate. IRT taught me how to do it with no cash, and in a startup you have to do it with no cash.
"The key to a startup," she says with a pause, "is that you can't afford to make many mistakes."
'Exceptional Businessperson'
Marion is "an exceptional businessperson," says Lindsey Burroughs, president of GTE Wireless in San Diego and Hawaii, who has gotten to know Marion as a Jabra customer and as a leader in the San Diego Telecom Council. She says Marion has a broad knowledge of business plus experience to back it up, as well as outstanding communication and people skills.
Marion is engaging, friendly, considerate and appreciative , and genuine about all of it , says Paul Kreutz, a partner with Gray Cary Ware & Freidenrich LLP. Those people skills make her an effective manager, he says.
The attorney adds Marion has good judgment and the kind of perspective that lets her joke with him during some "pretty tough projects" at Jabra.
Born in Dearborn, Mich., Marion grew up in Silicon Valley and received a bachelor's degree in economics from Stanford University. She then came to San Diego with her new husband.
Jobs were hard to come by in 1976 and 1977, she recalls, but she was able to land one at General Atomics. She was one of a half-dozen people hired under an affirmative action initiative and was put on a track to be a vice president within 20 years.
'Very Lucky'
It gave her a good foundation in profit and loss management. "I was very lucky," Marion says.
Marion, who was then known as Vicki Foote, eventually headed GA's contracts and government programs group and was part of the team that founded the San Diego Supercomputer Center.
Jabra Corp. was not her first organizational turnaround.
She joined IRT Corp. in 1987 and soon got a crash course in turnarounds. The company , which made automated, X-ray inspection systems for printed circuit boards , brushed close to bankruptcy a few weeks after she arrived. Many top executives left. Marion found herself one of the highest-ranking people in the organization.
She became CFO, helped hire a chief executive and helped remake the place from a government contractor to a commercial enterprise, rising to president in the process. IRT grew 400 percent in seven years.
"Of course I sold seven businesses to do it, you understand, and we had to grow some other ones," Marion says. "During that period I learned how to make cash stretch."
Marion fondly recalls a banker who took the time to give her both advice and cash.
"But never too much cash," she says. "Just enough to survive and do what I needed to do."
'Cash Makes You Stupid'
"I've had people tell me that cash makes you stupid," Marion says. "If you don't have cash, you have to make very careful decisions. Because, you know, one mistake, you die."
Marion eventually sold IRT, then in 1996 considered a walk back onto the tightrope. An investment banker she knew suggested she look at Jabra. She signed up as CEO, started recruiting managers and began to seek financing.
Jabra had considered several markets for its tiny headsets, including call centers. Marion soon saw a stronger market was cell phones, even though phone manufacturers were not building in jacks for such devices. Part of her company's job was to lobby for such jacks.
Nearly four years later, Jabra is shipping 1 million units to retailers like Radio Shack and wireless carriers like Sprint.
Marion now sees new markets for her products, as well as new uses. When the cell phone and the personal digital assistant (like the Palm Pilot) merge into one device, the headset may become a necessity, she says, since a user won't be able to simultaneously view the device's screen and hold the device next to his ear.
Bluetooth short-range radio technology may even put a cordless connection between headset and cell phone, she says.
Marion's commitments extend outside her University City office. She is a director of the San Diego Economic Development Corp., and advises UCSD Extension on entrepreneurial management classes. She is also a director of the UCSD Connect Athena group, which helps women executives in high-tech fields develop their skills.
Renewed Energy
Marion previously sat on the board of the San Diego Venture Group, but gave up the seat to help start the San Diego Telecom Council, where she now serves as board chairwoman.
Marion says she initially was apprehensive to take outside commitments.
"I thought for most of my career that I couldn't afford to take time away from my business to do things in the community , that that was going to harm the business and I wouldn't have the energy.
"What I found was that it actually fueled me, it gave me more energy. And I think it's actually helped my business."
Marion says she works her employees hard , it's the nature of a startup, she says , and she tries to reward them well. GTE's Burroughs described Marion as tireless, as someone able to get by on four hours' sleep.
Growing a company has cut into her leisure time, Marion says, though she's hoping staff growth means days off for her.
"I live to ski," she says. She keeps a second home in Lake Tahoe, where she often gets together with family and friends from the Bay Area.
Marion's career has also let her pursue two more broad interests: learning new things, and making things happen.
"If you give me a puzzle, I want to solve it," she says. "If you give me a product, I want to figure out where and how to sell it. If you give me a person, I want to figure out how to motivate them.
"I think what motivates me is making things work. Because when they do, it is an incredible thrill."