People On The Move
Monday, November 20, 2000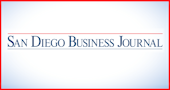 Banking and Finance
Temecula Valley Bank promoted Kelly O'Donnell to senior vice president, branch manager of the bank's Fallbrook office. Valerie Spicer joined Borrego Springs Bank as vice president and general manager of Indian gaming services. Bair Financial Group welcomed Harry Bair as a senior partner. Kevin Barrie was named manager of Union Bank of California's Kearny Mesa Branch.
Construction and Design
Linda Zubiate was promoted to associate principal at Carrier Johnson. Leslie Cohen Design welcomed Michael Ranson as an interior designer. W.R. Chavez Construction promoted Donald Thieme to vice president of operations and chief operating officer, and hired Bayani Abueg as chief technology officer and director of technical services. ProjectDesign Consultants welcomed Ramesh Gupta as vice president of transportation, Kim Hanson as human resources assistant, Emilio Rodriguez as a design engineer, Jonathan Winn as civil engineer, Pete Janemark as a GIS specialist and Sandra Coronilla as receptionist.
High-Tech and Manufacturing
Cubic Corp. named Richard Johnson chief operating officer. Vice president of TriTech Software Systems Laura Lee will head the new division titled The TriTech Group. Jim Minarik was appointed president and chief executive officer of Directed Electronics Inc. Robert Nunn was elected chairman of the board of NurLogical Design, Inc. Gary Shaffer was elected to the board at Peregrine Semiconductor Corp. Claude Hooton was appointed executive vice president of marketing and corporate development of SupplyPro Inc.
Hotels, Restaurants and Resorts
Jack in the Box President and Chief Executive Officer Robert Nugent will become chief executive officer and chairman of the board of directors.
Miscellaneous
Fiona Tudor joined the La Jolla Chamber Music Society as director of development. The BFGoodrich Co. appointed David Shaw to president of the aviation services division. CONOVER hired Damin Sterling as graphic designer and David Highly as intern.
Media and Marketing
Maria Goonan joined Creative Connections as national sales manager. Castle Advertising welcomed Dave Franco as associate creative director, Mike Marchesano as director of accounting, Sandra Scholl as media buyer, Rina Galit as media coordinator, Katie Bey as account coordinator and promoted Melissa Jaycox to account supervisor.
Real Estate
Richmond American Homes promoted Anne Walker to the position of vice president of sales, Southern California division. John Hoffman was promoted to vice president of Colliers International.